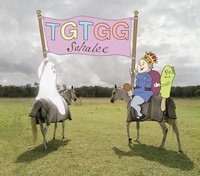 One of the biggest fears faced by writers is making their audience seem irrelevant by dropping unnecessarily large amounts of references. Anyone who's read Chuck Kloksterman has probably felt fucking stupid at one point, yet there's something about his vast array of knowledge that keeps you coming back for more. I wouldn't be as brazen as to compare The Got To Get Got, an emotionally rich power-pop seven piece to Chuck Klosterman, but the lyrical depth attained on Salahee is certainly a credit to this Haligonian act.
Salahee is a wonderfully upbeat tribute to the constantly evolving world of pop culture. How appropriate that the eighth track on Salahee is called "Some Loud Thunder Clap Your Hands Say Boom." Not only is this track indicitave of how culturally aware The Got To Get Got are, but because they're equally aware of how to make upbeat and resonance-heavy jangle rock.
It's not totally reminiscent of that 2005 buzz band, but Salahee definitely adapts from Clap Your Hands Say Yeah with the utmost precision. "Rare Rain" is a lo-fi gem, pushing and pulling with mounting guitars and indiscernible (But seemingly moving) lyrics. Salahee encapsulates a variety of highs and lows throughout its eleven tracks; at times, the jangle of the guitars borders on incessant. And at other times, including on the tribute to NFL-heroes, "Peyton and Perry," TGTGG represent all that is cool in indie rock. They maximize space with layers of fuzz and jangle and delicately layered background vocals that stretch into inevitable distances, far far away.
Salahee isn't exactly a record to sing along to. Yet it shows a wealth of promise. Let's keep all seven of them reading in the off-season and get them on the road and into the pop culture masses as soon as possible.
By Joshua Kloke
[Rating: 3.5/5]