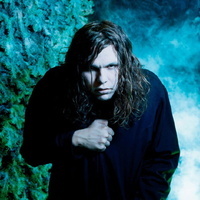 Three years after his last full length, Jay Reatard returns with Watch Me Fall, a jubilant twelve tracks that smooth over Reatard's scuzzy, garage-rock gems with concise production. Many will lament over Reatard's decision to give into a production-heavy record, but it's impossible to neglect how the production works in Reatard's favour. Reatard's vocals are distinguishable and work in synch with the natural harmonies that his simplistic garage-punk tunes proliferate.
And that's just the beginning of the evolution (Natural or not) of Jay Reatard. Best known as the long-hair who willfully releases more seven-inches thann proper full-lengths records, Reatard doesn't make drastic sonic steps on Watch Me Fall. "Faking It" is typically choppy, at times overpowering in its heavy verse but with its melodic chorus, Reatard hasfound his happy medium. Purists who favour Reatard's no-frills approach to record might not necessarily be happy with Watch Me Fall, but therein lies the beauty of the record.
"I'm Watching You," a dreamy, peachy hit that's loaded with hooks, puts Reatard is a 60's AM frame of reference. And oddly, it works. Reatard is best known as an angry motherfucker, but on Watch Me Fall, he bares personal elements to listeners. Reatard is in a sense, daring his fans. Watch Me Fall as a title can be interpreted in a variety of ways; this certainly isn't Reatard's swan song, but it definitely signals a departure in Reatard's sound. It's a departure that ought to be applauded.
By Joshua Kloke
[Rating: 3.5/5]