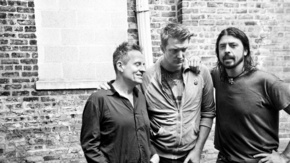 Dave Grohl, Joshua Homme and John Paul Jones – aka Them Crooked Vultures – have confirmed November 17 as the release date of their eponymous debut album in the United States and Canada on DGC/Interscope Records.
The self-produced 13-song record will feature first single "New Fang" as well as the debut of the studio versions of the material Them Crooked Vultures unveiled at their August 9 debut at Chicago?s Cabaret Metro and played on a first series of shows throughout a handful of UK and European cities and portions of the eastern U.S.
A string of teaser videos have also been released by the band in anticipation for the November 17 release. Through their YouTube channel, www.youtube.com/themcrookedvultures.
"New Fang":
[youtube S7_vH3H8LPI nolink]