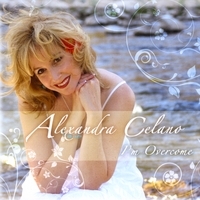 This singer/songwriter from Southern California is bringing her highly spiritual & inspirational music to the forefront.   Alexandra Celano blends a joyful mix of Christian, country, rock, pop and Americana to make up one uplifting sound.   Celano invites you to come along on her celestial life journey.   The eleven tracks on I'm Overcome captures the artists' true essence as a human being on this earth.  
This album focuses on a deep sense of faith and family along with a warmth of goodness that comes from the heart.   Celano sings these songs in such a convincing manner where her voice is angelic and her words are gripping.   As she bears her soul to us, it appears to be full of joy and happiness.   What I hear on this recording is incredibly satisfying music that will soothe your soul.   The overall tone is a very peaceful one where Alexandra appears to be calling out to the angels & the heavens.   Her voice is lovely in pitch & tone, but powerful in the sense of mere presence.   As I listen to this album, I am overcome with a heavy feeling of peace & well-being.  
The record starts up with the title track, "I'm Overcome", where you get a definite country feel along with an overwhelming sensation of goodness.   Celano also supplies peacefully good lyrics to ease things out & make everything right.   Song two, "I Will Go" goes in a pop/rock direction more so with soothing melodies and a subtle country vibe.   "My Father's Hands" gives you a soft 'n' tender touch while "Let the River Flow" is giving high praise.   Track six, "You", offers up a sweet sentiment while "More than a Man" is beautifully done and dedicated to the ultimate higher power known as Jesus Christ.   The song, "Grandpa", is such a tremendous & touching tribute that it is extremely momentous for all.   The album ends with the pure innocence of a child being born as the miracle of life is captured & cherished.  
Another pivotal figure toward the making of this album would be Ed Tree who produced, engineered & mixed 10 tracks along with handling much of the instrumentation.   All lyrics belong to Alexandra except "In This Place" and "My Father's Hands" co-written by none other than her husband, Bryan Celano.   Key players come together to make something truly special here.
I can't leave without mentioning the imagery on the covers of this album.   You witness the glowing light of Alexandra Celano on the front with displays of ever-flowing water & flowers.   This continues on the inside as well to give off a very serene, peaceful and holy visual sensation.   The packaging is put together so well that you get such a great feeling right away from the tranquil scene brought to life.    
I just hope that the world will rejoice as Alexandra becomes overcome with emotion and shines through you.   I'd like to leave with some gracious words by Celano that really sum up her character and the character of this record:   "I'm so grateful to God and his many angels for leading me on my musical journey.   I'm truly overcome…"   All there is left to say is God Bless and Amen.   For more on Alexandra Celano and her spiritual journey known as I'm Overcome, SKOPE out www.alexandracelano.com.  
By Jimmy Rae (jrae@skopemag.com)
[Rating: 5/5]