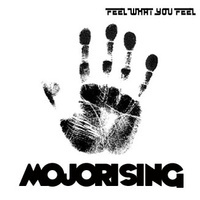 Mojo Rising has taken the land down under by storm as they now set out to take over the states.   Making the move from their home-land of Australia to the sunset strip of Los Angeles hopes to be a beneficial one for the band.   They hope to create a brand new fan-base by making the trip to the land of Hollywood hoop-la.   By exposing & introducing Mojo Rising and their music to the states means opportunities galore for this group.   Originally a 5-member-band, Mojo Rising is now made up of just two members: Jozsef James on vocals, keys and harmonica and Daniel Angelini on drums, sampler and percussion.   The band title actually comes from one of their major musical influences, The Doors.   This comes during a line in "L.A. Woman" where the masterful Jim Morrison feels the "mojo rising!"   Mojo Rising also pays homage to another one of their favorite bands INXS as being a major inspiration toward them as musicians/artists.   With over 150 live shows performed over the last three years, these two band-mates   are hoping to hit some hot spots like:   The Whisky Go Go (where the legendary Doors once played along with many other talents) & Viper Room just to name a few.
What blows me away is the amazingly powerful sound that is created by just two men.   Mojo Rising are mixing an eclectic array of styles together such as: dance, rock, funk, pop, soul, electronic and even a little blues.   The songwriting is a focal point for these musicians as James likes to call it "very cathartic and healing, an expression for him".   Feel What You Feel is exactly that as the message is loud & clear:   enjoy the feel-good music and just forget about life for awhile.   The songs will make you move, but will also move you at the same time.  
The five-song debut EP starts up with a number titled "She woke up to me" that comes with a very funky, electronic dance beat mixed to some cool, soulful and passionate singing by Jozsef.   This song was grooving along wonderfully and I simply loved the funky dance feel here!   Next up, "Touch", is more of a pop/rock-oriented song with still some elements of funk thrown in for good measure.   On the third track, "Walk Away", you get a suave, almost bluesy-like vibe that makes for one cool, finger-snappin' jam.   The harmonica and keyboard add that extra special something on this one as well.   "Soothe me & use me" is simply just rockin' away as Jozsef and Daniel jam the hell out of this set.   The final installment on Feel What You Feel, "Maybe in another life", is the most compelling out of all five songs from a singer-standpoint.   James is getting in touch with himself & the listening audience here where all emotions are being poured out.   Stirring up ear-pleasing vocals, Jozsef James is really feeling it here from all levels.   What a finish and the best part is that I didn't even see it coming!
Mojo Rising realize that coming from another country to play in the U.S. might not be an easy transition right away, but these strong musicians are prepared to grab the bull by the horns and accept the challenge.   James says it best here: "It's a dog eat dog world in the music industry and you can expect that in any country you go to."   There is only one thing that matters for Mojo Rising and that is "if I can make other people feel good because of a lyric, a melody or a beat then I feel like I have given something back," (Jozsef James).   I couldn't have said it better myself, here's to you Mojo Rising!   For more on Mojo Rising and their diversified new release, Feel What You Feel, SKOPE out www.myspace.com/mojorisingband.  
By Jimmy Rae (jrae@skopemag.com)
[Rating: 5/5]