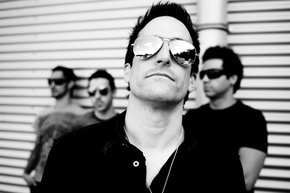 Rock icons FILTER return to the airwaves with their new song "Fades Like A Photograph," which will hit Rock Radio this week.   The track will be featured in the upcoming big-budget action thriller 2012 and its accompanying soundtrack. 2012 stars John Cusack and was directed by Roland Emmerich. The soundtrack will be released Nov. 10 and the film hits theaters Nov. 13.
"Fades Like A Photograph" Windows Media:
"Fades Like A Photograph," written by Filter's Richard Patrick and the film's producer/composer Harald Koser and Thomas Wander, was produced by Richard Patrick and features the band's John Spiker, Mitch Marlow and Mika Fineo, as well as former Filter member Brian Liesegang.   "Photograph" marks the first time Patrick and Liesegang have worked together on recorded material in over a decade.
The single "Fades Like A Photograph" will be available for download on Nov. 10th.