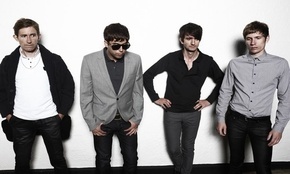 Produced within the four walls of a former DDR radio station in East Berlin, The Rakes released their third album, 'Klang', digitally on October 20th in the US.
The album has been available as a UK import since March. It's been over two years from their previous album, 'Ten New Messages' (2007), and a debut, 'Capture/Release' (2005), that was compared to the fame of The Libertines, While the past two years have witnessed a series of transformations in the UK, where no one smokes in pubs anymore, everyone's on Twitter, and those 22 grand jobs in the city are definitely NOT alright, musically speaking, most bands who emerged alongside these post-punk/new-wave Londoners have ceased to exist.
The Rakes have managed to stay strong through this period of great change and have witnessed some new changes of their own — reinventing their sound, and creating their freshest, most innovative album to date.
Download 'That's The Reason' MP3:
SKOPE IT HERE!
 
US TOUR DATES:
10/31 – The Roxy – Los Angeles, CA
11/01 – Slim's – San Francisco, CA
11/03 – The Urban Lounge – Salt Lake City, UT
11/04 – The Bluebird – Denver, CO
11/06 – Triple Rock – Minneapolis, MN
11/07 – Double Door – Chicago, IL
11/09 – Mod Club – Toronto, Canada
11/10 – Petits Campus – Montreal, Canada
11/11 – Great Scott – Boston, MA
11/12 – Highline Ballroom – New York, NY