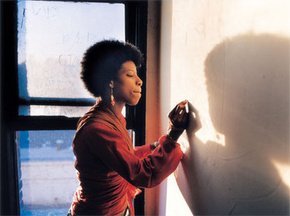 Singer/songwriter/producer Georgia Anne Muldrow is releasing her third studio album, "Early" on November 10th through the label Animatedcartunes.
Georgia Anne Muldrow is a singer, producer, songwriter born and raised in Los Angeles, California. Her father an instrument inventor for Eddie Harris and her mother, Rickie Byars, a singer with the Pharoah Sanders Ensemble. Still in her teens she relocated to New York where she lived briefly and recorded seven songs for her 2005 self-released EP, "Worthnothings".
Many in the independent scene first got wind of her after she collaborated with the Platinum Pied Pipers on their much celebrated debut "Triple P". After that she signed with underground heavyweights Stones Throw Records to re-issue her "Worthnothings" EP and release her full length debut, "Olesi: Fragments Of An Earth".
Georgia Anne Muldrow – Run Away
[youtube _RBjMrRXTxI nolink]