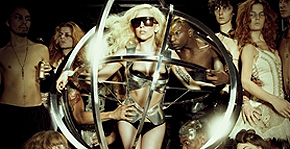 With Kanye off to rehab, Lady Gaga is still ready to go on tour with the announcement of "The Monster Ball Tour: Starring Lady Gaga".
The disco freak of nature recently announced plans for her next North American tour, entitled "The Monster Ball." The tour will begin on November 27 in Montreal, and will wind up on January 21, 2010 in Gaga's hometown, New York City. The tour also makes a stop in Miami on New Years Eve. Looks like Floridians will be bringing in the new year in a very extravagant way. Kid Cudi will be the supporting act for the entire tour.
The tour coincides with the release of the re-package of her breakthrough album, The Fame, called The Fame Monster. The re-package will include eight brand new songs, including her new single "Bad Romance.", which a small portion of was played on Saturday Night Live. As for her aesthetic choices for the tour, Lady Gaga describes that the tour wll be a multimedia artistic experience in the style of the first-ever 'pop electro opera.
Tour Dates:
November 27 — Montreal, Quebec, Canada — The Bell Center
November 28 — Toronto, Ontario, Canada — Air Canada Center
November 29 — Ottawa, Ontario, Canada — Scotiabank Place
December 01 — Boston, MA — Wang Center
December 02 — Boston, MA — Wang Center
December 03 — Camden, NJ — Susquehanna
December 09 — Vancouver, BC, Canada — Queen Elizabeth Theatre
December 10 — Vancouver, BC, Canada — Queen Elizabeth Theatre
December 13 — San Francisco, CA — Bill Graham Civic
December 18 — Las Vegas, NV — TBD
December 19 — San Diego, CA — San Diego Sports Arena
December 21 — Los Angeles, CA — Nokia Theatre
December 29 — Atlanta, GA — Fox Theater
December 31 — Miami, FL — Knight Center
January 03 — Orlando, FL — The Hard Rock
January 07 — St. Louis, MO — The Fox
January 08 — Chicago, IL — Chicago Theatre
January 09 — Chicago, IL — Chicago Theatre
January 12 — Detroit, MI — Fox Theater
January 16 — Atlantic City, NJ — Borgata
January 20 — New York, NY — Radio City Music Hall
January 21 — New York, NY — Radio City Music Hall