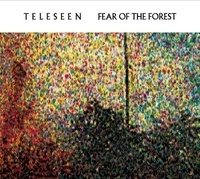 Teleseen is one man known as Gabriel Cyr and he is based in Brooklyn. The NY locale has no relevance here because Fear of the Forest will you take you on a trip, but not in the physical sense but rather by way of a voyage through the mind. Teleseen and the artist behind the mask proves on this record that he has many faces.
This musician is bringing a wildly different style of music here through electronics and dubbing. This producer and multi-instrumentalist offers listeners a very experimental grouping of sounds/sound effects. The overall experience is quite a unique one to say the least. The album plays as an art piece because just as a person would observe & examine a portrait up close, the same technique is being applied here. Each song on the record you are soaking in and listening close to in order to try and figure out what is being heard, seen and felt. The painting or self-portrait at stake here is Teleseen's Fear of the Forest and this work will require a deeper understanding of thoughts.
I truly loved the use of random noises & sounds scattered throughout this whole CD. The audio being heard was very sporadic & quite unusual at times, but that is exactly what made Teleseen and his new work so special. Just like a wordsmith is good with words, Gabriel Cyr would then be considered a soundsmith. Teleseen has become one with the use of sound and the noises that surround him.
The 10-song set starts up with a track called "Prophecy is Fulfillment in the Mouth of the Land", which gives you a naturesque atmosphere filled with sounds of crickets, birds and water. You really feel like you're outdoors when listening to this song due to the serene soundscapes. This opening track even has a tribal-like vibe about it with a techno-ish beat later on. The next installment, "All the Ash that Allowed", supplies some out-of-sight, out-of-mind moments through an audio display of spiritual dance. "Black Monday" features an artist by the name of Jah Sight that really gives this tune a nice touch of reggae. On "Burn Down the Wicked", get ready to literally walk through the depths of the jungle here with some outdoorsy elements highly evident once again. On song 6, "East Wind Unification", you get the trippiest of all 10 songs with an overly mysterious tone. You also get random voices talking in the background here, but you are not able to pick out what they're actually saying–at least I couldn't. With this number, Teleseen is giving you some psychedelic in good measure and I couldn't help but think of the great Pink Floyd using this tactic to their advantage many, many times on their records. Afro Soul singer, Abena Koomson graces us with her presence on two tracks, "Crown" and "Factions". Her singing style really jived in well with the soundsmith at work adding in some very cool voice effects that were highly appealing. One last special guest on the album was Billy Woods who rapped his way onto the record. Bringing an element of hip-hop through rap verses mixed to Cyr's unorthodox creations further complicated & enhanced matters. I have to say though that the rap lines and Cyr's beats really flowed together nicely.
I'll admit that I didn't quite get everything being portrayed on this album because it is a very complex composition at times. But the beauty of art is that it takes time to really get the whole picture. Teleseen has played all over Europe, the U.S. and Africa and also has a monthly radio program on New York's free103point9. Gabriel Cyr is set to intrigue your mind through musical art. For more on Teleseen and the latest release, Fear of the Forest, SKOPE out www.myspace.com/teleseen.
By Jimmy Rae
[Rating: 3/5]