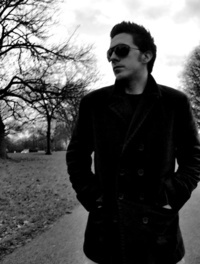 Steven Bryan was born Francesco Dell'Orco in Milan, Italy, but he is an English adopted singer/songwriter.   He later moved to London in 2007 where he really started to find out who he was as an artist.   It seems that Bryan has now found his voice/identity on this new EP, Let Me Stay.  
On this new release, Bryan was responsible for the writing of all lyrics, lead & backing vocals, parts of the arrangements and production of this project.   The fine back-up band that Steven just hired this year are: Francesco Lo Castro on guitars & keyboards, Dominic Giannetta on bass guitar and Gabor Dornyei on drums & percussion.   The well-established musicians add a wonderful dynamic to the soaring talents of Steven Bryan as the performing singer.  
A deep passion for music started early on for Steven when a cousin introduced him to some Beatles, Cat Stevens and Guns 'N' Roses.   From there, it was history for the Italian-bred musician.   Bryan started writing songs at 14 and started his first band, The Kids, in 1998.   Shortly after that in 2000, Bryan would join a band called Destiny and then a string of rock & roll cover bands would follow from 2003-2006.   2009 and the new EP, Let Me Stay, hopes to be a big success for Steven Bryan and his band.
The four-song set is a rock recording with some soulful pop melodies.   Melodies are key on this disc with radio-friendliness screaming in the background.   I would call Bryan's vocal delivery a softly-spoken approach with a rock edge.   His style of singing is very distinct in terms of his cool pitch.   Bringing the highs and bringing the lows melodically was Bryan's objective as a singer here, but always keeping it current & relevant.   I really enjoyed Steven Bryan's vocals here as they seem to soothe the listener.   All songs had a similar-type musical style with the exception of the final track, "Only 24-7".   On this number, Steven and his band-mates come out of nowhere with a surprising classic rock feel.   You get a jam-out, rock beat that is hitting hard from all angles.   On this song, I heard some really nice guitar solos/riffs along with some solid, kick-ass drumming.   This unexpected surprise was a nice treat at the end, but I did not see it coming at all!  
Steven Bryan wants to stay in the world of music making and I think that we, the public, will have no problem letting him do that.   Bryan is here to stay!   With an exciting US club tour scheduled in 2010, I'm really excited to see where Steven Bryan will head next both musically & artistically.   For more on Steven Bryan and the new EP, Let Me Stay, SKOPE out www.myspace.com/stevenbryanmusic.
By Jimmy Rae
[Rating: 4/5]