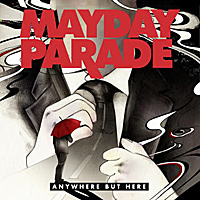 On their sophomore release Anywhere But Here will come as a huge change to many Mayday Parade fans. Mainly for the fact the new record does not feature the writing and vocals of original singer, Jason Lancaster, whose spot has been filled by Derek Sanders. However, with the absence of Lancaster, the Tallahassee-based quintet have conjured up a cleaner, more innocent sound, which may have not been a good thing.
Anywhere But Here has a hard time of separating itself from the sound of typical mall/pop punk bands, and unfortunately ends up being a cliché of what the genre has come to be. "Kids In Love" is the first opportunity at hearing Sander's new position in the band, and delivers a clean, innocent song with a typically catchy chorus about none other, than love. It really does show hope for the fate of the album, only until you realize every track following it is a complete mimic.
Who'd have known you could you could sing about a love so many times in the same trend? By the time you've heard the final seconds of the fading guitars on "Kids In Love", you've basically listened to the rest of the album all the way 'till "The End". Repeatedly using the same formula loses its charm. Even the band's one-off cover of "When I Grow Up" by Pussycat Dolls for Punk Goes Pop, Vol. 2(which is ironic in itself) does much more justice for the band than what the could do on this sophomore slump.
The album will be a hit-or-miss with fans, for it departs from the band's original, aggressive, but still pop-punk sound. Anywhere But Here will leave a sour taste in old fan's mouths, and will probably attract a new wave of fans. Mayday do deserve their credit for staying strong, and delivering satisfactory pop-punk. But their lack of diversity on this album will be their biggest letdown.
[Rating: 2.5/5]
REVIEW BY NORREL BLAIR