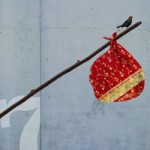 "Hindie rock," you say? That's what Elephant Stone, a five-piece psych-pop outfit from Montreal (Better known as Canada's indie music goldmine) are calling The Seven Seas. The debut record features members of The Besnard lakes and The Dears, and is essentially the brainchild of Rishi Dhir, once a member of the all-to-infectious Montreal rockers The High Dials. It's good to see that even after the demise of The High Dials, Dhir is still chalk full of upbeat jangle, all the while tossing in hints of sitar for what turns out to be a surprisingly groove-laden record.
There's a haunting edge to The Seven Seas, especially within Dhir's often-hollow yet always potent vocal work. Dhir directs the rest of Elephant Stone through a strange journey of a pop masterpiece on "How Long," reminiscent of the better (And stranger) tracks from The Beatles time in India, yet some remarkably omnipresent guitar work to cap the track off, not unlike some of Neil Young's finer work. Lofty comparisons to be sure, but if The Seven Seas is anything, it's an ambitious record.
The Seven Seas takes a crunchy turn on "Oh Heartbreaker," with scuzzy guitar that slowly gives ways to a soft and spiritual chorus that constantly maintains an upbeat harmony. That joyous, Indian-influenced harmony takes center stage on the title track. Just try not smiling to that delicious little ditty.
What The Seven Seas does with patient poise is fuse two sounds that very few (Besides John and co.) could ever imagine would fuse so well. Cheers to Dhir and Elephant Stone for their ambition. Their predecessors would be proud.
By Joshua Kloke
[Rating: 4/5]