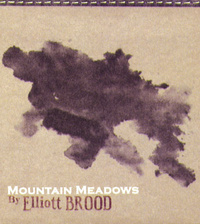 Elliot Brood is one seriously bad-ass band. No, it's not just one dude parading around; it's a full-on, raucous three-piece band that manages to kick out some of the most rollicking countrified jams possible from just three instruments. Toss in lead singer Mark Sasso's relentlessly raspy growl and you've got reason to believe why Mountain Meadows, the second LP from Sasso and co. wasn't only short-listed for Canada's Polaris Prize but why it managed to garner a Juno award for Roots and Traditional Album of the year. And from the bar-room stomp and swirl of "Fingers and Tongues," the fist-in-the-air opening track on Mountain Meadows, two things become evident: Elliott Brood are quite deserving in their accolades. And what's more, it's a damn shame that these guys aren't better known.
Named after the Mountain Meadows massacre of 1857, Mountain Meadows can only be considered as a massacre to all pre-conceived notions of how alt-country ought to sound. Elliott Brood harness cool, island rhythms on `This Valley Town` and elevates a tiny-sounding guitars to unmistakeable heights. Often propelled by drummer Stephen Pitkin`s emotive and evocative ability to not just keep time, but create it, especially on the barnyard shuffle of `T-Bill` and the hammering, Johnny Cash on steroids freakout, `Write It All Down For You,`one can easily understand why Elliott Brood have labelled their sound not as alt-country, but death country.
Though Mountain Meadows is indeed named after a horrific massacre of human lives, it`s easy to find a sense of hope and optimism in the record. The 13 tracks on Mountain Meadows possess the power to inspire both a crowd of sweaty drunks and the lone, rambling man in all of us to stomp the shit out of lousy memories and create better ones.
By Joshua Kloke
[Rating: 4.5/5]