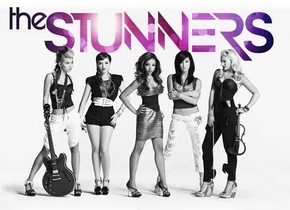 "Dancin' Around The Truth" blends clever lyrics about a relationship going wrong with pulsating synths and a hypnotic groove.
Songs like Electricity and We Got It celebrate the experience of being out on the town, having fun and burning up the dance floor with powerful beats and sing along choruses, while Imagine Me Gone is an introspective look at love and independence against a melodic backdrop of acoustic guitar and violin.
"Thematically, our EP is about relationships because that's what's in our heads a lot of the time," laughs Lauren.
Download Lead Single "Dancin' Around the Truth":
But don't think this quintet is only boy-crazed.   These performers are hard workers, balancing their music careers while juggling recurring roles on TV shows like Two And A Half Men (Tinashe), Ten Things I Hate About You (Allie), Everyone Hates Chris (Marisol) and the Cartoon Network's first live action movie Scooby Doo! The Mystery Begins (Hayley), to name just a few.
The Stunners continue to write and record their full length album with the likes of Jimmy Harry (Britney, Pink) and Tony Kanal (No Doubt), Sheppard Solomon (Kelly Clarkson), among others, while simultaneously developing their television show which chronicles the rise-to-fame of an aspiring female pop group as their friendships, loves and integrity are tested.