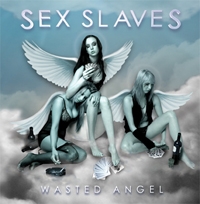 This 3-member rock band from NYC is bringin' the dirty 'n' nasty goods here on Wasted Angel.   Sex Slaves offer a real hard-edged rock sound that really has some ballz to it.   The new record has attitude, it has got rawness and it has a whole lot of substance!   Coming off their 2005 release of Bite Your Tongue, Wasted Angel proves to be outrageously good with some very high-quality & well-written material.
The group is made up of three highly energized individuals that go by: Eric/13 on vocals & guitars, Del Cheetah on bass & vocals and J/Bomb on drums & vocals.   With some cool-ass names under their belt, the music, in turn, exhibits a real kick-ass mentality.   These New Yorkers will blow your mind with their impressively filthy display of solid musicianship.  
What I love about this band and their new album is that they're including that element of a hard-nosed persona with a sort of cocky arrogance about them.   This demeanor doesn't just compliment the music, but also becomes part of the whole picture.   This is very cool to hear and Sex Slaves definitely bring this notion of music with attitude to life.   Seems like a packaged deal Sex Slaves are about to deliver with authority!
On the whole, Sex Slaves are a very hard-edged rock & roll band that is on the verge of metal but just not quite there.   The beauty of this group is that they can rock the hell out of a set or bring it back down to a surprisingly lite & pleasant place.   Song #9, "Just A Memory", displays this softer side and I have to say that they pull it off nicely.   You also get a radio-friendly moment on the track, "Beautiful Embrace", that seems to be perfect for the stations.   The best part is that when these New Yorkers back off the throttle a bit, they can still kick ass and hang onto their edge.   Musically, there were some fine moments being produced here that entice the eager ears.   Sex Slaves should be proud of this new record without a doubt!
I really enjoyed the crazy energy that these three men bring to this album.   From beginning to end, these men never let up on the gas!   Eric/13's intensity on vocals comes through by way of some wicked & hellacious screams/shrieks while bringing that enthusiastic forcefulness to the microphone.   He also plays a mean guitar where Eric/13 rips things wide open & shreds it all up in such an awesome manner.  
Next, there were some stand-out lines that made me listen twice such as: "Gonna drink your blood tonight" & "Goin' straight to hell in the back of the bus".   These lyrics appeared on the fourth track, "Bloodlust", and I couldn't help but think to myself "WTF!–Are these guys the real-deal Lost Boys???" (lol)   Even if they happened to be bloodsucking vampires from Hell, I have to say that in the end Sex Slaves are just absolute hard rockers on a mission.   Song 8, "Cheap Imitation", is the biggest shock on the record due to Eric/13's vicious aim toward an undisclosed ex-girlfriend and her current boyfriend.   Here are some lyrics directed toward the ex: "Your new boyfriend is a cheap imitation of me and I will get you back eventually" and now the new boyfriend: "He's fucking girl and he'll get what's coming when he least expects it".   Eric/13 even goes on to refer to the new boyfriend as a "pussy" and "faggot" due to him apparently "crying at the movies".   Wow, that's a bit rough & a little funny I thought as this highly vindictive song plays on.   This number is very aggressive in spirit as the band supplies major artillery with two people in the line of fire.   Looks like two people are getting heavily called out on record here–Hey Now!
Overall, this is one damn good album with no surprises.   You're getting ALL rock ALL day EVERYday and ALWAYS 100% raw baby!   For more on Sex Slaves and their steaming hot release, Wasted Angel, SKOPE out www.sexslavesnyc.com.  
By Jimmy Rae      
[Rating: 4.5/5]