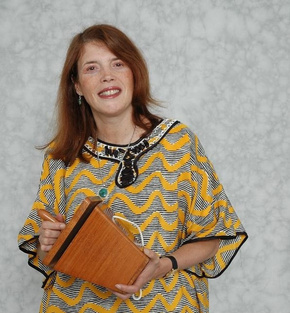 I like to consider myself a true music enthusiast who is always open to try new genres & sounds. My next guest has opened up my eyes to a genre I never knew existed but I am happy I do now. Corina Bartra is a native of Peru who now splits her time between there and New York City, Corina Bartra is a multi-faceted musician and healer who is interested in a wide array of artistic and humanistic endeavors. Corina recently released her new album 'Afro Peruvian Jazz Celebration' and it made me a fan!
Stoli: Growing up in Peru at what age did you decide you wanted to perform music?
Corina Bartra: Growing up in Peru I decided to study music at 14 years old. I started improvising   with   percussionists. Also learning about percussion. I was considered very avant-garde there and doing things totally out and beyond the music scene. One day my mother started crying because I used to carry a canteen filled with with pineapple juice to my concerts. I used to put a poncho on the stage to sit on and from time to time I sipped my pine apple juice. One day a person in the audience approached her and asked her if my cantimplora   had drugs because what I was singing was very rare.
Stoli: How is the live music scene in Peru different from NYC?
Corina Bartra: The music scene when I started was musicians playing Chick Corea, Pop music in English, and commercial   dance music. At the beginning of my career before I started writing   music was to go on stage and just flow with the music. After that, I was the first vocalist who started blending Jazz with Criolla   music from Lima and the Coast of Peru and Afro Peruvian   music. All these with   my personal touch .
Stoli: Your new album 'Afro Peruvian Jazz Celebration' is a wonderful melting pot of musical genres. Were you hesitant taking this approach at first or did it come naturally?
Corina Bartra: This approach came to me naturally. There are some musicians I find who are open and have the capacity to tune in and connect to various kinds of music and you cant explain why, but they seemed to have play that kind of music always. I am also a percussionist   so I have the rhythms and grooves which flow spontaneously from my core of Being. This gift helps me in this particular style or genre, which is a very   rhythmic   one. I also have a strong component of instrumental innovations I did on my records and performances, as I gave solos to the players . I also write   extended interludes, intros, and e ndings living instrumental   spaces. I find the music breaths and flow better. In trying to be commercial, the music gets to be very straight and square. It can work for some people. For me. the best thing is not to try to be anything and keep the music organic and true to its inspiration.
Stoli: This is your fourth album with Blue Spiral Records. How does your label help to give you the creative freedom to experiment and create new & exciting albums?
Corina Bartra: This new CD "Afro Peruvian Jazz   Celebration is my fifth Afro Jazz CD with Blue Spiral   Label. The first "Corina Bartra Quartet," is out of print. A Japanese collector brought all   my CD's. I always   cherished my creative freedom and adventurous spirit so practically I do what I want musically. My mother was born in the Peruvian Amazon and I inherited and untamed spirit from   her. My father came from Europe and still tries to control me without success.
Stoli: How long did you take to record 'Afro Peruvian Jazz Celebration' and how did you decide what musicians you wanted to work with on it?
Corina Bartra: It took me a couple of years to produce "Afro Peruvian Jazz Celebrations," It is autobiographical in the sense That I recorded part of it in Peru with musicians I work when I go there and perform. Also, I partly recorded with musicians I have been working in New York and other states here in the U.S. throughout the years. A couple of them are also from   Peru living in New York. I always   choose top and great musicians who can also blend with my style and the music I choose as a vehicle for my musical   expression.
Stoli: Your voice is so soft & elegant. Do you have to switch your sound when singing in English or Spanish?
Corina Bartra: My voice changes its sound when I sing in English, Spanish or Portuguese. I have also recorded previous CD' which have some Brazilian, Afro Cuban influences and new Latin trends. Travelog for example, traveled across these genres. Having live in the U.S. part of the year for many years now, has given me the command and feel of the language. I consider myself to be a   New Yorker now. I also studied music here at Mannes College, L.I. University and Queens College. It was funny also when I got here, I played at CBGB with a band which was doing heavy metal. I realized than, this was not for me.
Stoli: Being at the forefront of the Afro Peruvian genre, does that add pressure to you to keep the genre strong and moving in the right direction?
Corina Bartra: Being at the forefront of the Afro Peruvian World Jazz genre doesn't give me any pressure   at all. I am one of first   pioneers and also the firs vocalist who   blended these idioms. For this reason I will also   be an original. The textures I used in Son Zumbon for example where the first of its   kind. That CD is   full of freshness and innovations and also   has some originals I wrote which have a very personal touch such as "El Dorado" and "Osiris". Though I find I always strive to keep the genre strong and moving. We always   keep moving and growing. There is no ending to this.
Stoli: You have been in music for many years. Do you look at the digital revolution in a positive or negative light in regards to your own career?
Corina Bartra: The digital   revolution is   good for me in the sense that it gives the artist   freedom from the yoke of the labels. In another sense it doesn't help. Sometimes I think a lot of people might substitute live   performances for downloads. There is nothing like a live   performance. I thing contemporary life is becoming too computerized and its a little dehumanizing.
Stoli: I love track 7 on the new album, "No Valnetine."   Was that song based on real life and how personal do you allow yourself to get in your songwriting?
Corina Bartra: No Valentin is not my tune. It's and old Afro Peruvian tune. I presented the tune in a Contemporary Jazz Arrangement. I love nature. Nature always inspires my writing. Ideal and daily living experiences too..
Stoli: Being that your music is so multi-genre, I am curious what musicians I would find on your iPod?
Corina Bartra: In my iPod I have an eclectic library. I also love Rock and Pop music. I have Cold Play for example. I also have World Music from various   countries including India. I have some Classical   music too.
In Son Zumbon, I did a Jazzy version of Black Bird   by the Beatles.
Stoli: You are involved with Yoga and healing. How would you say that those activities and your music go hand in hand?
Corina Bartra: I am involved in healing. Yoga, Tai chi, Chigung, and other healing modalities from Peru. All of these practices have helped me to find my own true voice and sing from a spacious space. However, stylistically speaking, I don't mix the Afro World Jazz with a music project I have where I explore meditative music from other spiritual traditions. I also recorded two CD's which has some chants which I wrote based in Hindu Mantras. I traveled and spent some time in India. I also had a teacher of North Classical Indian Music who lived by La Guardia Airport. I   used to take a couple of buses all the way there to study with   him. This   style of music is entirely another project, I would say, with a completely different groove and feel. I don't mix projects since I always keep the essence of each loyal to its essence.  
Stoli: If I was to travel to Peru and wanted to see some real authentic Peruvian music, where should I go?
Corina Bartra: Peru has different kinds of music. There is music from the Andes; there is music from the Amazon, and there are other styles of music in the coast. My Azu Project is blending Jazz with music from the coast. If you go to Peru and wanted to see some authentic Peruvian Music from the coast south, for example, you can go to a Place in Barranco (Lima) called "Manos Morenas".
Stoli: What is coming up for Corina Bartra and where can readers get more from you?
Corina Bartra: At the moment I am preparing a CD which will celebrate chants from various traditions in a very free and encompassing way. It will be a CD which also has influence from America folk music which I love. I love Folk musicians from the sixties such as Bob Dylan, Joni Mitchell, Lou Reed, and Patty Smith. This new CD will also have vocal and instrumental improvisations as well. I have decided not to use my name on this project since people get very confused and it makes very hard to market myself where ever I go. There are people who are more into one project or another and don't really know what I am going to do. More than this I wont say what is coming for Corina Bartra since I have other projects I want to do but I like to surprise people.