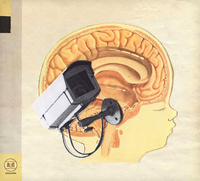 Much is made of the fact that Joel Gibb and the rest of the Hidden Cameras are closely aligned with the gay movement within indie-rock. Yet on Origin: Orphan, the band's 5th studio LP, one doesn`t hear so much an influence from Gibb`s personal choices as a spiritual influence. Long classified in the chamber-pop genre, The Hidden Cameras take this tag to a whole new meaning, producing a stretching LP ripe with confidence that attains higher levels of awareness than in any of their past records.
Origin: Orphan kicks off with a mighty spiritual awakening; the building and haunting "Ratify The New" tremors with anticipation, all the while featuring Gibb's trademark rolling harmonies. Throughout the sacred experience that is Origin: Orphan, Gibb and the rest of the Cameras never sacrifice their ear for the sensual yet playful. Origin: Orphan is a tremendously fitting title for the record, as it appears the Hidden Cameras experience a bit of a rebirth throughout the the eleven standout tracks.
The title track is yet another glaring, synth-laden spookfest, full of wicked repent and righteous turns. Origin: Orphan will shock listeners, not because of Gibb's sexual leanings, but at how remarkable Gibb's muse and the rising musical tide of the record go hand in hand.
Origin: Orphan closes with a gentle, piano based 60's AM radio ditty, "Silence Can Be A Headline." This is where the record truly scared the shit out of me. Thinking about the world of indie music with The Hidden Cameras to deliver their poignant gospel would indeed draw headlines. But why would Gibb and the Hidden Cameras choose to remain silent when they can deliver classic lines, like this:
"Forget what you know/Leave your own/And what you see with your own eyes/canonize the truth."
By Joshua Kloke
[Rating: 4/5]