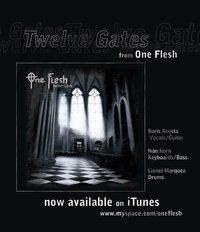 Right away from the front cover, you get a gloomy, dark-type setting.   This flows right into the CD where you definitely get a dose of what I like to call Gloom Rock.   One Flesh and their newest release, Twelve Gates, offers up some darkly-layered gothic rock with some tinges of alternative & psychedelic sounds.   The record is one wild trip, which is amazing since it only has six songs!
One Flesh hails from Boston and is made up of: Boris Acosta on vocals/guitars, Lionel Marquez on drums, Jeff Fletcher on bass and Ivan Korn on keys/guitars along with some very cool art work by Brian Levinson.   The band touches on themes such as: real life, personal experiences of loss & pain, religion, death, isolation and sex.   The group has had some success already opening up for some pretty big acts such as: Disturbed and Dropkick Murphys.
The CD is already highly inventive in the fact that One Flesh performed the first three songs in English and the last three in Spanish.   To be honest, the Spanish versions have a bit more mystique to them that makes Boris Acosta's vocals/tone sound even more interesting & intriguing.   Don't get me wrong, the songs in English are very well done, but the Spanish numbers just seem to have that extra special ingredient.  
The new release starts up with a track called "All of You" that, right off the bat, has a wildly different vibe of Psych/Alt/Goth Rock coming full circle.   Acosta really stresses on one line during the song that is highly emphasized over & over to the listener: "I never wanted this…I never needed this".   Song 2, "Do What You Will", has a nightmarish sound to it with plenty of gloom & darkness to fill the space.   The middle track, "On Your Knees," is one of my personal favorites due to a very cool effect both musically & vocally.   This song has an infectious chant that can not be ignored: "I want you off your feet now.   I want you on your knees!"   "Tu Deseo" displays a very good, solid & simple beat that really flowed well throughout the song.   Not to mention, the same track had an ear-pleasing keyboard part and some cool guitar moments.
Overall, I loved the inventiveness of this group, One Flesh, bringing a sound that just rocks in its own distinct way.   Twelve Gates invite you to open up the gates, come on in and get ready for one horrifically thrilling show.   One Flesh encourage people to enter their world full of scary reality & wonder.   For more One Flesh and their new project titled Twelve Gates, SKOPE out www.myspace.com/oneflesh.  
By Jimmy Rae
[Rating: 4/5]