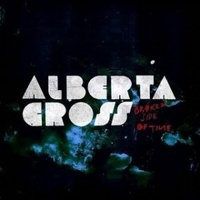 Comparisons in rock and roll are inevitable for two reasons: very often a band gets together because of a shared affinity for another band. And rock journalists are a stringently lazy bunch whose ears are often tweaked but connect the dots like young children. Without knowing the exact circumstances of what brought Alberta Cross, the New York-based five piece together, let me just state the obvious: their debut full length, Broken Side Of Time sounds a hell of a lot like My Morning Jacket.
And it's also inevitable that this comparison is going to get thrown around a lot, considering how raw each artist often comes across. What's more, the raging, full-on jams that very often border on transcendental find their way onto the better of each artist's tracks. Yet in the wake of My Morning Jacket's yawn-inducing last release, 2008's Evil Urges, southern-bred jam rock has a new saviour in Alberta Cross. The twelve tracks on Broken Side Of Time are some of the most comforting (Yet ironically enough, they're also angry as hell) rock and roll dust-ups you're likely to hear in 2009.
I say comforting only because the well of this brand of rock and roll has been drying up lately. The title track holds nothing back, with towering percussion and crashing guitars that bring to mind Godzilla stomping through your lovely little picturesque town. Yet when vocalist Petter Ericson Stakee steps in and calms the fleeing villagers with his heart-warming crescendos, "Broken Side Of Time" separates itself from its predecessors and does the forefathers of their genre, including the mighty Neil Young very proud.
The only knock on Broken Side Of Time might be the fact that it is only an LP, and it might be a little constricting for the boys in Alberta Cross. Hearing how Alberta Cross manages to scratch and peel the surface with a collection of wails and loose, free-floating rhythms is a clear signal that there is deep, dark edge to Alberta Cross that can't be confined to the studio.
Their expansive sound might likely present itself better onstage, from the late-night, smokey mingle of "Rise From The Shadows" to the wallowing, haunting closer "Ghost Of The City Life." Not only is it just the sound of Broken Side Of Time that presents an expansive edge, but it is the depth of song-writing that should truly be marked as expansive. There's highs, lows, fast and slow; you'd be silly to call yourself a rock and roller and not want to hear Broken Side Of Time.
By Joshua Kloke
[Rating: 4.5/5]