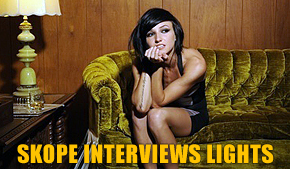 On the first day of her North America tour which started in Philadelphia, Skope was able to interview the Canadian dream-pop songstress, LIGHTS, about her surprising musical influence and the challenge she faced trying to win over a punk-rock crowd at Warped Tour.
SKOPE: Alright, so where are you right now?
LIGHTS: We just left today for first day of tour which is tomorrow, we're playing in Philly.
SKOPE: Where at?
LIGHTS: The North Star in Philly. I love playing in Philly, I've played there like four times already! So I'm excited to go back.
SKOPE: How was your first Warped Tour?
LIGHTS: It was awesome! I was only on the first month, but I always went to Warped Tour when I was growing up so playing it was like being on the other side of things, and it was awesome, I learned so much.
Especially because you have twenty-five minutes to win over people who are, y'know… teens, who are really hard to capture the attention of and are technically there for punk-rock. I was surprised at how many people actually knew the songs and were watching my set.
SKOPE: Since your music is a bit slower then what Warped Tour fans are used to, was it a bit hard to win over the crowd?
LIGHTS: You know, I was a little nervous at first, but for starters I know that Warped Tour lately has been reaching different genres, they're getting a lot more electro, a lot more pop, and also I remember growing up going to Warped Tour and I always wanted to go just to see honesty and people playing their instruments and doing what they love and that was why I went. It didn't seem fake to me at all, so I just went up there and played with honesty and played as well as I could and I think kids can see that.
SKOPE: What was your favorite song to perform everyday?
LIGHTS: "Second Go", which we always played like third or something, it's on the new record. It's the first high-energy track of the set and it usually gets everyone involved right away and that's what Warped Tour is about; Getting the crowd involved and being energetic.
SKOPE: What bands were you hanging out with every other day?
LIGHTS: We got really tight with VersaEmerge because we went on tour with them in the UK a couple months before. The Rocket to the Moon guys are real sweet-hearts, and everyone really got along which is really cool.
SKOPE: Your actual name now is Lights, right?
LIGHTS: Yeah, my first name is Lights.
SKOPE: How did your parents take that? Do they still call your Valerie?
LIGHTS: My parents do, but nobody else really does. It was my name for so long and it comes right out of my last name [Poxleitner]. Y'know adding that to the front of my name legally is like taking another step in becoming who you are.
SKOPE: What are your musical influences?
LIGHTS: For me a big influence is song writing, so some of the best song-writers of time are the ones I find most influential for me and that's obviously The Beatles. You have ABBA, Phil Collins, and all these artists whose songs are still shining through. As far as all the electro stuff, I'm getting a vibe from Bjork, M83, Justice, and lots of Euro-stuff.
SKOPE: Do you think on your next release, things might be a bit more faster?
LIGHTS: I don't think so, because my songs are spawned from emotions or whatever I'm going through at the time. So I never say "I'm gonna write a dance song", and then write it. I can't say if I'll be writing more dance-y stuff. In the future, I may go a bit more organic and use 50% digital, 50% live drums/guitar.
SKOPE: When you were first coming to America from Canada, was there anything that was an obstacle?
LIGHTS: Whenever you start somewhere you have to start from the ground up, and in Canada that's how it was. Moving into the States, it was like starting all over again. Thankfully, I've come back to tour through the States a lot starting from last Fall, so I've built a pretty good foundation there. And now, I am embarking, today is the first tour of my American tour.
SKOPE: Are there any covers you're thinking about performing on this tour?
LIGHTS: Maybe I'll do "In The Air Tonight" by Phil Collins a couple times.
SKOPE: So I'm guessing you like Phil Collins more than Genesis?
LIGHTS: I definitely prefer Phil Collins just because of the songs, however there really are some really really great Genesis songs, and that being said there were some great Peter Gabriel songs and I'm not gonna lie at all, it kind of sounds the same. [Laughs] I'm a fan of all of it.
SKOPE: On "Ice", there is a bit of rap part in the song, and the last thing you say is "Ice, Ice, Baby". Was that a joke, or something you through in randomly?
LIGHTS: Yeah, it was definitely an homage to Vanilla Ice.
SKOPE: Do you have a Top 5 for albums of 2009 so far?
LIGHTS: I'm trying to say which ones are 2008 or 2009… well La Roux. La Roux's record came out, and that's a really good record. What else came out in 2009?
SKOPE: There's the new Yeah Yeah Yeahs record, Taking Back Sunday, Passion Pit…
LIGHTS: Y'know what? The new Brand New is really great. I'm not even a huge Brand New fan. I really enjoy the new Kings Of Leon that came out. [And unfortuantely,  the rest of this last question becomes a complete mess with both of us trying to name records of 2009]
– – –
LIGHT'S debut album, The Listening, is now out in stores. Look out for our interview of The Listening!