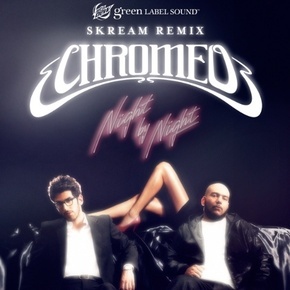 Green Label Sound, the free singles label, releases an exclusive remix from UK dubstep producer Skream for Chromeo's recent release "Night By Night." Skream, one of debstep's most prominent producers, adds his slow, dark drum and bass burn.
The "Night By Night" Skream Remix as well as the original version of "Night by Night" are both available for free download at GreenLabelSound.com now.
"I was confused when I first heard this: all of a sudden, our song sounded like a Bone Thugs record. That's because I couldn't hear Skream's satanic sub-bass on my computer speakers. Then I switched systems and it made perfect sense. Play this loud and you'll hear all the hypnotic qualities you'd expect from the grand wizard of UK dubstep," remarks Dave 1 of Chromeo.
"Night By Night" (Skream Remix):