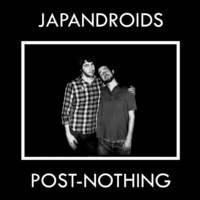 Buzz bands walk a very, very fine line. More often than not, the first thing your average music consumer hears is the hype before any substance. Immediately then, said listener adopts Grand Canyon-sized expectations. Especially when proliferated by a few certain tastemakers, the hype becomes so unmanageable that the artist risks imploding, often before a sophomore record.
Then there's the other side of the coin. You know, where the record really is that good. Usually, all it takes is just a simple raise of the eyebrow from whoever you're talking to, and you know it's legit shit. And while I can't raise my eyebrows to you, I can tell you that I was indeed skeptical of Post-Nothing, the debut LP from East Vancouver's now well-documented garage rockers Japandroids. It's brash, it lacks any and all restraint and it's a lot of fun. If you could see me, my eyebrows would be raised as high as possible. Believe the hype on this one.
The guitarist/drummer duo kick things off in brazen sonic fashion, with the wailing "The Boys Are Leaving Town." Guitarist Brian King and drummer David Prowse share the vocal work on this classic opener, literally stretching their lo-fi vibe into unseen, grand territory. Lo-fi so rarely sounds as epic, a trend that continues on "Young Hearts Spark Fire," an ode to living your life as full as, well, Post-Nothing.
In what may be the catchiest tune on the eight-track gem, King and Prowse reminsce on the finer points of drinking alcohol and girls in the sunshine. Sound hokey? Few lo-fi garage duos could pull off a hook-laden chorus of   "We used to dream/now we worry about dying" with such ease.
And from there, things don't let up. Post-Nothing doesn't bare a single gap in substance. From "Rockers East Vancouver," where the duo dive into something of a punk vibe (While still adhering to their "Keep it simple" lyrical vibe) to the murky album closer, "I Quit Girls," there is nothing to complain about on Post-Nothing.
While it remains to be seen if Japandroids will indeed implode in the future, what matters is the half an hour wash of awesomeness that is Post-Nothing. One would think that it hardly matters what Japandroids do in the future; if Post-Nothing teaches us anything, it's to live in the moment. And what a glorious moment it is.
By Joshua Kloke
[Rating: 4.5/5]