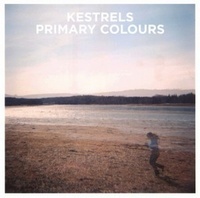 Maybe it was just where I grew up, but in high school, every band sounded the same. They were hookey alright, but their remotely relevant brand of pop-punk never sat well. There was something missing. Even in a sea of bands all playing at the same venue (The Dungeon, if you must know) not one single band could get it right. And now I realize why. None of those bands were Kestrels. The Halifax threesome's debut LP, Primary Colous is chalk full of the melodies my buddies wanted to create. This is the record for them.
To call it graduated high-school rock wouldn't be fair. But the sense of youth is definitely present on Primary Colours, from lead singer Chad Peck's impossiblely boyish vocals to the safe yet incredibly dependable riffs which make up most of the record. "Plastic Dresses" is a perfect example of a riff which brims with anticipation yet never totally explodes. So many bands lose great riffs on their own desire to simply get a little weird, but Primary Colours is just too cohesive and catchy to do such a thing to the listener.
"Take The Picture" features the kind of loose groove that even some of the major pop-punkers out there could learn something from while "Ridicule" showcases the band cranking it up to 11 but still staying totally buoyant with their pitch-perfect riffs. Peck's raging guitar solo on "Ridicule" is as close as the band gets to cracking skulls, and for that, listeners of perfect punk-pop should thank Kestrels. There will always be time for art-rock and the like, but there should probably be more time for Primary Colours.
By Joshua Kloke
[Rating: 2.5/5]