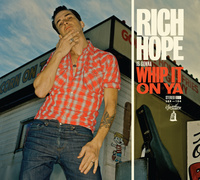 Where do the blues come from? Is it a persistent hole in one's soul that's only filled by dirty jams in smokey bars? And if so, are the blues really that simple of a vocation?
On Rich Hope's debut LP, Rich Hope Is Gonna Whip It On Ya, the answer is a resounding no. There is something deeper, something worth examining, if only because the record begs for something more than a standard Saturday night boogie.
Sure, there's playful jams, like the greasy, harmonica-infused title track. And then the punkish, White Stripes-esque "Let's Jump Around Some" features Hope and his lone bandmate Adrian Mack beating the speakers into submission with fist-in-the-air unison. But while the blues have been bastardized by so many rock and rollers these days, one can't help but wonder what it is that keeps Hope's blues so persistent.
Hope takes a trip down to the swamp on "Death Bed Blues," a swaying number steeped in the kind of self-reflection that could clear the smoke out of any blues bar. On "…Is Gonna Whip It On Ya," Hope succeeds marvelously in blending racuous jams and the kind of honest blues are too damn rare these days. By the time "When My Light Comes Shining" rolls around, one thing becomes painfully obvious: the blues are not merely a passion for Hope; they are a way of life. Rich Hope drops a chorus that might scare the shit out of some, but it may very well be the ethos of "…Is Gonna Whip It On Ya."
"When my light comes shining/you know I'll have my eyes wide open/I'll have no fear at all/to feel that way again."
By Joshua Kloke
[Rating: 4/5]