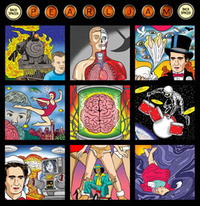 The legendary rock band Pearl Jam has been known for plenty of things throughout its near two decade career. However, one of its most publicized periods was when the Seattle band took on Ticketmaster back in the 90s because of the agency's high ticket fees. While this battle proved to be unsuccessful, it did earn Eddie Vedder and his crew some praise as music renegades.
This is well worth remembering because Pearl Jam has taken a lot of flack for releasing its latest album Backspacer via Target. The logic behind the criticism is how could an unconventional band like Pearl Jam kowtow to a mainstream retail superstore. Well, the answer to that is basically simple–Backspacer is the band's first independently released cd and the band, thinking it had a great recording on its hands, wanted a good distribution deal in order to bring it to a vast array of potential listeners.
So Pearl Jam sold out to the devil and you know what . . .so what? Today's musical landscape is much different than the 90s in nearly every aspect so the old rules don't apply anymore. What is important about this release though is Pearl Jam was right about something–Backspacer is the band's finest album in many years and it deserves to be heard by as many people as possible.
Backspacer sees Pearl Jam as a driven band who doesn't want to mess around. This album is full of short, energetic rock songs and emotional, fulfilling ballads. Best of all, Backspacer finds the band at its most playful.
Proof of that is in the first three songs on the cd which are all great rockers. The recognizable guitar crunch from Stone Gossard and Mike McCready get things going on opener "Gonna See My Friend" while the punkish energy of Jeff Ament's bass and drummer Matt Cameron anchor "Got Some."
As for "The Fixer," it's Pearl Jam's brightest song in a long while. Vedder sounds great as he growls "When something's dark, let me shed a little light on it."
Everything is not entirely sunny on this album though. Vedder's somber soundtrack work seeps into his band's sound every once in a while. "Just Breathe," a moving song about mortality, is one of Backspacer's best moments with its fine acoustic guitars and string accompaniment. The closing track "The End" is another good example of Vedder's vulnerable lyrics as he sings "Don't leave me in the cold or buried beneath the stones/I just want to hold on and know I'm worth your love."
Truth be told, everything is not golden on Backspacer but it is rare for any Pearl Jam album (yes, even the classic ones like Ten) not to have at least one or two lesser songs. "Johnny Guitar" seems like the odd song out here. It does have the signature Pearl Jam guitar sound and Vedder's powerful vocals but it seems to fall flat.
Still, Backspacer finds Pearl Jam at a new point in its career. They might not sell as many records as in its heyday but that hasn't stopped the band from making inspired music. Here, the band recaptures its glory in its writing songs about love, mortality, and redemption and playing them as a tight, cohesive unit.
And if anyone doubts that, all one has to do is listen to the track "Unthought Known." This is the standout song of Backspacer with its prominent piano, propulsive backbeat, and driving guitars and it sounds so grand it doesn't matter if Pearl Jam isn't considered musical renegades anymore. Now, it is apparent Vedder and his mates are just happy to be thought of a great rock band and that they are.
Author – Todd Sikorski
[Rating: 4.5/5]