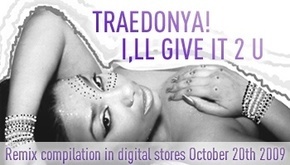 Prohibition Entertainment would like to announce the official winner of the Sam Ash global remix competition for R&B crossover vocalist TRAEDONYA hot single "I'LL GIVE IT 2 U." The winner is Producer/DJ Prophit of Dayton,Ohio. The event was held on July 31st at the Sam Ash music chain's Springfield, NJ store.
The winning mix which features emerging Emcee TAM TAM, out of Huntsville, Alabama is an in the box urban pop track. As part of the competition rules the winning mix will be promoted to record-pools, blogs, all types of radio including internet, satellite and commercial this fall and winter. The remix is scheduled to go to radio Oct 21st and will be in global digital stores by that date. The remix shall be promoted in all major music territories as well.   Prohibition has partnered with top notch promotions/PR companies in the USA, Canada, UK, Australia and France for this release.
 
TRAEDONYA   AKA "THE BRIDE OF THE NEW FUNK HIPOPERA" critically acclaimed single "BELOVED" has allowed her to develop a global audience and is looking forward to giving R&B/URBAN heads a track they can wrap their heads around. TRAEDONYA has said in interviews,"I am a left field artist and I do not want to be pigeonhold into one genre. I am very excited about the track, I love what DJ Prophit did with the single."
**CLICK HERE TO LISTEN TO THE RMX MP3**  
 
DJ Prophit said "I was very positive on the track because I loved the vocals and it motivated me to come up with something edgy but poppy too. Regionally, I got positive feedback and would like to thank the X-Squad DJ's for assistance with getting me that feedback. So I felt pretty confident I had a good chance of winning."
 
Prohibition is excited to have the winning remix and after hearing from a small sample of industry tastemakers and Myspace listeners, feels confident the track may be a winner the 2nd time as well.