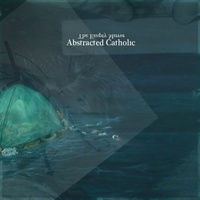 I just want to throw this out first, so it's clear for everyone and that is that this new five-song set should not be called an EP.   Rather a new release or "opus 2" is what lead singer, guitarist and producer, Grant Valdes, prefers.   Opus numbering is an element of classical music and very important to Valdes' composing side.   He feels that every artist should number their releases and he even gets a line tattooed on his arm for each release.   EP stands for "incompleteness" according to Grant and he and his band-mates definitely want no part of that.   So obviously, numbering & sequencing are very important to Valdes and The Empty Mirror.   This band takes a very mathematical approach to music making, which is very cool actually.   So here's a question for the guys: Do you look at The Empty Mirror, on the whole, as half empty or half full???   Hmmm…the inquisitive & mathematical minds would love to know.  
Founder–Grant Valdes, Ante Ruich on bass and Bill Kim on drums are the three men responsible for Abstracted Catholic.   Just as the title suggests, the music is equally abstract and seems to be perfect for this digital age.   With so many new artists and so many new styles emerging, now seems to be the time to make your statement.   The Empty Mirror is definitely making that statement with this release, as it is completely off the radar to mainstream media.   It's so refreshing to hear newer bands experimenting with sounds and not being afraid to take risks musically.   This is the feeling I get after hearing Abstracted Catholic, which is Valdes & company not succumbing to status quos of being a "politically correct" band.   Breaking the mold and not giving a shit what people think is the attitude here and I love it!
The Empty Mirror hail from Seattle, which is famous for breeding talented musicians.   But this group could care less about that; they are here to make THEIR music and make THEIR mark.   No comparisons needed as their music speaks for itself in a very unorthodox manner.   This "opus 2" is a highly abstract piece for this generation that people will either get or won't get.   It all depends how open-minded you are whether you will dig Abstracted Catholic or not.  
You can't put a label on Empty Mirror's new release because there really aren't any words to describe it.   All I can say is that I heard some hard rockin' rhythms mixed with a psychedelic/alternative vibe.   There were some dark undertones and even dreary-like suggestions during the recording of this release.   It's weird though because they weren't your normal, dark moments that you envision from say Gothic records.   They seemed to be almost hidden within the music where you really had to listen close to pick up on this.   Valdes' singing style is highly interesting & different where I don't even have words to describe it.   The overall sound appears to be very free floating & free falling at times not knowing where it's going to end or meet.  
I really enjoyed the guitar parts on this "opus 2" because Valdes really rocked out some awesome riffs.   I heard some sharp playing without a doubt!   Track two, "Static", you get that static sensation toward the latter part of the song where an incredibly overwhelming reverb effect comes in hard.   My favorite song on the new release is actually the last track, "God of Hunger", because it rocks and oozes with energy.   You can really feel Grant, Ante and Bill coming together nicely as they appear to be in their zone.   This band and this release are wildly unusual and even slightly obscure.   I don't comprehend everything that The Empty Mirror & Abstracted Catholic represent, but isn't that the beauty of life itself.   You might want to give a listen here, so maybe you can figure out if The Empty Mirror's Abstracted Catholic is half empty, half full or maybe even somewhat distorted.   You be the judge, but you should always at least give something a chance.
For more abstractions and obscurities, SKOPE out www.theemptymirror.net.    
By Jimmy Rae
[Rating: 3.5/5]