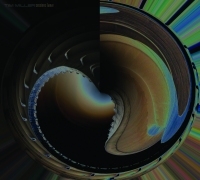 This Dallas-based singer/songwriter, Tim Miller, brings you a disc titled Sessions Lamar.   Acoustic/Folk/Rock are all blended together beautifully to make up crowd-pleasing music for the public.   But this isn't just your ordinary EP; this project is the highly anticipated follow-up to Miller's successful record, Adelaide.   This new EP features three songs from Adelaide ("Say Hello", "The Point" and "Man Overboard") all done acoustically along with a brand new single ("Opposite Ways") and a cover of Yusuf Islam's (Cat Stevens) "Father and Son".   From what my ears have heard, I would say that Tim Miller has done the follow-up major justice.
It all started with Miller's break out album fittingly called Out Of the Box.   This record helped gain a solid fan base as well as get his music featured on MTV's Real World, My Super Sweet 16, Road Rules and The Challenge.   Then came his critically acclaimed record, Adelaide, which gave way to nationwide radio play along with licensing for MTV's Real World, Road Rules, The Challenge, The Hills, The City, The Stylist, Parental Control, Oxygen Network's Bad Girls Club, E! Network's Keeping Up With The Kardashians, Khloe and Kourtney Take Miami and the film Shred II, starring Tom Green.   Tim Miller's music appears to be a hit among the overly saturated TV reality world, but what's the verdict from the actual real world?  
The answer to the last question is that us average Joes can respect & appreciate Tim Miller and his musical message.   Miller writes music that is real with no fancy gimmicks and he is able to relate with your ordinary person.   That is why it is ironic that his feel-good music is featured on the likes of so many reality television shows that seemed to be eating up our market today.   These shows, on the average, offer nothing but fakeness & nonsense, which is completely left field of Tim Miller's incredible talents as an artist.   I understand Miller is trying to gain as much recognition as possible and what better way than getting his music played on an overload of reality shows.   I just want people to see the difference between what's phony and what's genuine though and that Tim Miller is the real deal.   MTV, which should be renamed RTV (Reality TV), represents a new generation of people that can not be synonymous with Miller because TM represents UStv with no added filler!  
Miller is the sole songwriter on Sessions Lamar with the exception of "Father and Son".   His songwriting and singing ability just seems so crystal pure.   The purity he conveys on tape is nothing short of spectacular.   Miller plays & sings with extreme sincerity that really puts your mind at ease.   He has an element of satisfying charm about him through his music that comes across to the listeners in a huge way.   People can really hear this artist's true passion of music as he attempts to connect with everyone out there.   The sounds he creates are simplistic in nature, but then go way deeper with a very meaningful supply of realism included.   The acoustic aspect of this EP I absolutely loved as Tim Miller strips down everything and brings high quality material to the table.   He proves that you don't need all the extra bells & whistles or fake-as-they-come celebs to produce an excellent product.   In this case, all you needed was a relaxed voice, well-thought out lyrics and an acoustic guitar that smoothes everything over.   And you can't forget the man behind the voice, words and guitar who bears his heart & soul on this EP.   Tim Miller is a true artist who stands by his music and fans and much needed in today's "real world".  
For more on Tim Miller and his new EP, Sessions Lamar, SKOPE out his very cool & colorful website: www.timmiller.com.  
By Jimmy Rae
[Rating: 5/5]