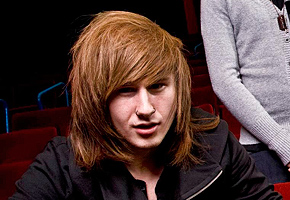 On Sunday, it was announced by Anthony Martone and band mate Devin Ingelido via Twitter and Myspace that Martone would no longer be drumming for Versamerge.
The news comes as a sudden surprise; the band just got off of Warped Tour, and are a month away from opening up on the Boys Like Girls tour with Cobra Starship, The Maine, and A Rocket To The Moon. Martone was also one of the original members of the band, back when they had a male vocalist. With this departure, the only remaining original member of the band is Blake Harnage.
Everything seemed well the day before this announcement; Sierra and Blake were going to perform an acoustic set at Union Square in New York. A quick look at Anthony's twitter, and you will see where the confusion starts.
"Excited to finally see @blakeve and @sierrave in union square in nyc today. They are doing a free acoustic set."
The next day, his following tweet was "I'm No longer in versaemerge. Thanks for all your support. I am currently a drummer for hire. Thanks everyone. <3"
When questions started pouring in about why it happened, not even Anthony could give a clear answer, "It is not a joke. The band is changing and I didn't change with them and they don't want me to play with them anymore. I don't fit anymore… I was kicked out for bullshit imo. Idk what they will tell you all but don't believe everything u hear… I'm unsure as to y this happened."
Evenutally, bassist Devin Ingelido spoke up in a lengthy Myspace blog post, which you can read on the band's LiveJournal here, that claims the choice was the result of concern for Anthony's well-being and battle with depression, and that this was the band's way of helping him out.