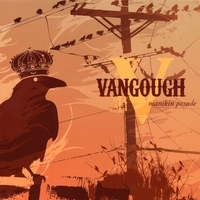 With a name like Vangough, you're assuming top-notch precision & artistry at its finest.   Now, you and I know that one should never assume because it can make an ass out of you and me.   But, in this instance the saying can stand as correct as this four-piece-band from Oklahoma is bringing high quality on Manikin Parade.
Vangough is made up of lead vocalist/guitarist–Clay Withrow, Brandon Lopez on drums, Abe Hartley on keys and Carlton Dorsey playing to the sounds of bass, cello and violin.   The sound that these four members have created is nothing short of authentically fresh.   Vangough is blending together heavy-metal riffs with some real nice melodies.   They've been compared to the group Dream Theater and have been said to be progressive metal.   I would somewhat agree, but also add that they have a very contemporary sound due to this invigorating style that they offer.   I would also like to say that Vangough is not just a metal band or progressive or contemporary; they are all of the above plus some.   The focus on moods, feelings & emotions is a huge factor on this record and it seems they are out to attack the human senses.   This band is not just a plain slice of cheese pizza, it is a large pie with the works!   Vangough is refreshingly different!
I picked up on the fine musicianship and musical connection between the players.   They play with an incredible fury oozing with raw energy & ferocious intensity.   The guitar playing was stellar with shred-tastic solos, the bass had some nice lines, the drums playing loud and the singer adding his own, distinct voice to the mix.   I couldn't help but notice that lead singer, Clay Withrow, had in interesting mystique about him.   He seemed to sing in such a theatrical manner with heavy emphasis on every note, every word and every line.   He seemed to take the listener to a wondrous & magical place of sadness, truth, hurt, anger, pain and even monster-like scariness.   Creating his own Nightmare Before Christmas atmosphere, Withrow would like to invite you to his constant world of wonder.   This world can be quite gloomy & dark at times, but always with 100% realness coming straight from the heart.   Honestly, Withrow was quite spooky at times with his over-the-top sinister tone as he appeared to be the Director for The Twisted Carnival Circuit.   The beauty of it all is that Withrow's theatrically dreary approach combined so well with the melodic playing.   The music was even surprisingly pleasant at times.   Manikin Parade may not be for everybody, but one thing is for certain: No room for the plastic & fake people here.   Your ears might not be ready for Vangough, so you might want to head back to Candy Land then if that's the case.
For more on Vangough and their new release titled Manikin Parade, SKOPE out www.myspace.com/officialvangough.  
By Jimmy Rae
[Rating: 3.5/5]