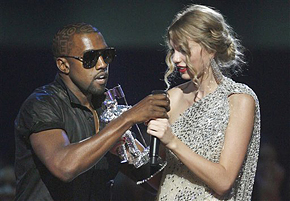 After recieving the award for Best Female Music Video, Taylor Swift walked on stage triumphantly, only to be shot down by Kanye West's unexpected interruption. Very familiar with controversy and outbursts, West swiped the mic from the country-pop singer and announced:
"Taylor, I'm really happy for you, and I'm gonna let you finish, but Beyonce had one of the best videos of all time"
Crowd reaction was a mix of cheering and awkward "ooh"s, that eventually turned to boo-ing. After returning the mic, Swift was at a loss for words, and looked shocked. However, Swift did get a chance to finish her speech when she was invited on stage by Beyonce, after winning the Video of the Year award.
Not too long after being kicked out of the VMAs, Kanye posted an apology on his blog. Caps lock for emphasis I suppose:
I'M SOOOOO SORRY TO TAYLOR SWIFT AND HER FANS AND HER MOM. I SPOKE TO HER MOTHER RIGHT AFTER AND SHE SAID THE SAME THING MY MOTHER WOULD'VE SAID. SHE IS VERY TALENTED! I LIKE THE LYRICS ABOUT BEING A CHEERLEADER AND SHE'S IN THE BLEACHERS! ………………. ….. I'M IN THE WRONG FOR GOING ON STAGE AND TAKING AWAY FROM HER MOMENT!…………….. BEYONCE'S VIDEO WAS THE BEST OF THIS DECADE!!!! I'M SORRY TO MY FANS IF I LET YOU GUYS DOWN!!!! I'M SORRY TO MY FRIENDS AT MTV. I WILL APOLOGIZE TO TAYLOR 2MRW. WELCOME TO THE REAL WORLD!!!! EVERYBODY WANNA BOOOOO ME BUT I'M A FAN OF REAL POP CULTURE!!! NO DISRESPECT BUT WE WATCHIN' THE SHOW AT THE CRIB RIGHT NOW CAUSE … WELL YOU KNOW!!!! I'M STILL HAPPY FOR TAYLOR!!!! BOOOYAAAWWWW!!!! YOU ARE VERY VERY TALENTED!!! I GAVE MY AWARDS TO OUTKAST WHEN THEY DESERVED IT OVER ME… THAT'S WHAT IT IS!!!!!!! I'M NOT CRAZY YALL, I'M JUST REAL. SORRY FOR THAT!!! I REALLY FEEL BAD FOR TAYLOR AND I'M SINCERELY SORRY!!! MUCH RESPECT!!!!!
And then a second apology, after deleting the first one:
"I feel like Ben Stiller in "Meet the Parents" when he messed up everything and Robert De Niro asked him to leave… That was Taylor's moment and I had no right in any way to take it from her. I am truly sorry. "
Blaming it on the Henny might have worked too.
Make sure to catch Ye tonight on the premiere of "The Jay Leno Show", where he is scheduled to perform "Run This Town" with Jay-Z and Rihanna.