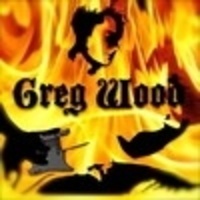 This Canadian rocker from Edmonton known as Greg Wood is ready to rock the spot all night long.   With his kick-ass, electric guitar sound & voice full of brashness, passion and soul, Wood offers a winning combo.   This record offers straight rock from the heart with hard-rockin' grooves and then some more passionate, heartfelt songs.   Whether it be just rockin' out hard or listening to some smoother, meaningful lyrics, Greg Wood has got you covered.   You are getting a full dose of Wood here on this album.  
It is worth noting that Wood is the sole singer/songwriter for the entire 10-song-set.   This talented young man definitely has a knack for words & music–no doubt about it!   He is also a member of SOCAN, Songwriter's Association of Canada, Alberta Music and Edmonton Musician's Association.   Wood's deep love and appreciation for music comes shining through on this new record.
Wood's guitar playing and singing style are equally impressive.   The guitar solos are exciting as they seem to be pumped full of adrenaline-rushed fuel.   The voice offers various qualities such as: a rougher, edgy sound at times and then other moments you hear a more sentimental & emotionally-driven voice.  
The record starts up with an in-your-face rock jam titled "Ride On" that offers a nice rock edge both vocally & musically.   Wood slows things down a bit on the third track, "Empty Shell", while still hanging onto that edgy appeal.   Song four, "Broken Hearted Girl–Remix" is a simple, light-hearted song about love fading away.   "Drift Away" and "Wake Up" have an incredibly, pop-friendly tone to them along with feelings of tenderness and mellow vibes.   "I Want A Girl" is exactly that as Wood simply just wants to find the right girl for him and he states that "she doesn't have to be a 10".   The song is fast & rollin' and full of energy–I loved this track!   So, calling all ladies:   GIVE WOOD A CHANCE!
I personally really enjoyed the sound of this entire album and would recommend this to anyone who likes good music.   So, go out and get some Wood for yourself—you won't regret it.   For more on Greg Wood and his latest release, SKOPE out www.gotgregwood.com.
By Jimmy Rae
[Rating: 4.5/5]