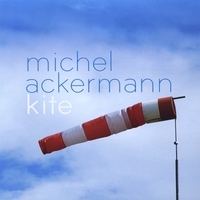 This Berlin-based singer/songwriter brings you a 4-song EP titled Kite. I have to mention the cover art due to its incredibly tranquil setting. I am seeing vivid blues skies along with plush, white clouds. The initial reaction of this scenery is a very peaceful feeling, which could definitely offer someone a calming effect. Now, let's see if this soothing art work carries over into the actual sound of the record. It is worth noting that the designs were created by Dirk Uhlenbrock, who was able to capture this relaxing atmosphere of sky.
Ackermann, in fact, does offer a peaceful-type vibe through the four songs. You get a heavy emphasis on piano, played by Ackermann, while Michel also incorporates elements of jazz, classical and pop. Phrased as "power pop", I would have to agree as the sound is quite strong with a flavorful mix of styles. With influences ranging from: Joe Henry & Van Morrison to Randy Newman & David Gray, you will definitely get a diverse taste of music.
Starting as a piano teacher and then turning a dream of playing classical, jazzy pop to the masses is now reality for Ackermann. Michel pours every last drop of emotion into this new project by bringing the melodies to life. Ackermann describes playing music live as "swimming through music and in the end it's a very spiritual connection".
The title track, "Kite", starts things up with a music-in-the-park kind of feeling. I can absolutely picture a kite being flown on a nice day due to the laid-back, positive flow of energy. Song three, "I'd Rather Be With You", is extremely peaceful while the final cut, "Our Love", has the entire band coming together nicely. Musically, this EP was spot on & truly enticing, but vocally I honestly was scratching my head at moments. Ackermann's vocals just didn't seem to match up with the overall sound where I'd like to say not on Q. It could be the accent perhaps, which is of no fault to Michel, but I personally couldn't look past that aspect. Overall, decent outing for Michel Ackermann as his Kite is breezing along.
For more on Michel Ackermann and his debut EP, Kite, SKOPE out www.michelackermann.de.
By Jimmy Rae
[Rating: 2.5/5]