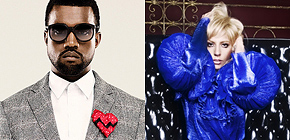 First tour dates have been announced for rapper Kanye West and disco queen Lady Gaga's much talked about tour!
Despite last night's WTF-moment when Kanye West interrupted country-pop singer Taylor Swift's award acceptance speech, took her mic, and then announced that Beyoncé had the best video of the year, in front of Swift's face. There was an awkward moment of cheering, that slowly turned into booing, while camera's were fixed on Swfit's shocked face. Hopefully by the time you read this, you can still watch the video on Youtube.
Back on the main subject, if you haven't already heard about the "Fame Kills" tour, which is said to be featuring no opening act, and have both artists performing on stage together. Said stage's design concept pictures have already been blogged by West. As "out there" as  the stage looks, it's not too surprising after looking at the "AVANT GARDE" and "ARCHITECTURE" posts Kanye makes.
With thanks to Lady-Gaga.net, four dates from the upcoming tour have been revealed. Remember, these are not the first four, these are just four confirmed dates:
November 18, 2009 — Sacramento, CA
December 12, 2009 — Greensboro, NC
December 26, 2009 — Hartford, CT
January 24, 2010 — Dallas, TX
Expect the rest of the dates on September 15th!