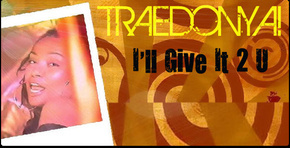 Recently Traedonya and Prohibition Entertainment held a global remix contest for the single, "I'll Give It To You." Producers and deejays from all over the world submittted their own versions of the track.
New York's Prohibition Entertainment was very excited to announce the Sam Ash pop remix contest for R&B vocalist Traedonya and her hot new single I'll Give It 2 U.
Traedonya even did a special in-store performance at the Sam Ash store in Springfield, New Jersey for the event on July 31.
The winner of the contest was a producer from Ohio by the name of DJ Prophit. Prophit beat out hundreds of others and won the grand prize of a top of the line Rane mixer and heavy exposure.
We got to talk with both Traedonya & DJ Prophit. We talk about the contest, what software DJ Prophit used, how Traedonya sees the song, and so much more.
You can hear the remix on Skope Radio now:
SKOPE TV PHONER WITH TRAEDONYA AND DJ PROPHIT PT I
[youtube _OyVkFn7_y8 nolink]
SKOPE TV PHONER WITH TRAEDONYA AND DJ PROPHIT PT II
[youtube yzADiETfETs nolink]