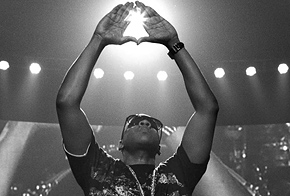 Eight years ago, the terrorist attacks on the World Trade Center shocked the entire world. This year, Fuse and Jay-Z have come together for a live broadcast concert from Madison Square Garden in New York City, to help children and spouses who lost loved ones that day.
The benefit concert will be broadcast in HD and commercial-free, starting at 9PM ET. Fuse will allow JAY-Z fans from across the nation to experience "Fuse Presents: JAY-Z from Madison Square Garden, Answer the Call" on the same day his 11th studio album,  The Blueprint 3 is released.
For more information including channels and schedules, visit the JAY-Z page at Fuse.