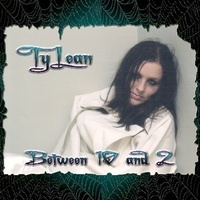 Between 10 and 2 is not your usual piece of music by any standards.   Vocalist, pianist and cellist, TyLean, has created something here that cannot not be matched.   A sound and a style all of its own can be heard here where Lean is going in a completely different direction both musically & artistically.   The originality factor is turned up high while Ty Lean dares to be outrageously different on this new record.
One thing is for certain and that is that you can't place this album into a certain category/genre of music.   The music or art being portrayed here does have elements of goth rock, classical and even opera due to Lean's beautifully-toned voice.   Her playing of the cello, piano and organ is quite impressive on this new album as well.
Time to dive into this work that will leave you in disbelief by wondering just what the hell is going on.   You will shake your head and be astonished by the eccentricity of the entire project.   You will enter a world of pure delirium that is TyLean's mind & being.   Lean focuses on such aspects as: despair, human cruelty, her own personal visions of reoccurring nightmares & insanity along with hallucinations and loneliness.   The album is said to "chronicle a descent into insanity", which I completely get now after hearing Between 10 and 2.  
The eight-song set oddly starts off with the playing of The Star Spangled Banner.   Starting with a patriotic & humbling feel definitely did not set the pace for the rest of the record.   Quite the opposite happened as Lean turned to a vision of dark & disturbing pictures.   What I heard from TyLean were moments of overly weird sensations mixed with creepy & scary times.   Lean incorporates her voice, piano and cello in such an odd fashion.   I'd like to call what TyLean has done here as: the twisted side of the state of mind.  
I couldn't help but notice the Halloween-type setting that her music seemed to be set to.   Calling Tim Burton & Rob Zombie, I have the perfect score to your next movie here!   No joke, I could have seen this as a perfect soundtrack to say Sweeney Todd.   It makes sense that Lean studied for her Master's degree in Music Composition for Film and Television at the University of Bristol in England while also making some short films & documentaries in the process.   This ghoulish music could perhaps even make the hair on the back of your neck stand up, who knows!
I can't leave without mentioning the fine vocals of this talented singer, TyLean.   She sings with such passion and in such a pretty manner that's it crazy to think about blending angelic chops with dark, musical insanity.   The classical style of playing mixed with the opera-like approach to singing coinciding with nightmarish sounds makes for one hell of a trip!   For more on TyLean and her new release, Between 10 and 2, SKOPE out www.tylean.com.  
By Jimmy Rae
[Rating: 2/5]