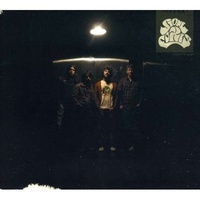 You know what you're getting into with The Stone Foxes from the moment you drop the needle on their debut, self-titled LP. It's an unabashed, dirty, rollicking good time. Borrowing heavily from their influences, the greats of the past and present including Jimi Hendrix, Creedence Clearwater Revival and the Black Crowes, The Stone Foxes is the type of filler-less record that was made for all-night booze fueled madness. And very often, it's the limitless soul-drenched fury featured on The Stone Foxes that fuels said party more than any whiskey can. If that isn't a compliment for this San Francisco-bred foursome, then I don't know what is.
On The Stone Foxes an immaculate balance of Southern blues, funky rhythms and tripped out acid-rock is attained with seemingly effortless precision. And it's that effortless precision that separates The Stone Foxes from it's predecessors. "Walk On Down," which could be an overlooked and unappreciated Hendrix b-side, with a creeping chorus and musty lyrics full of sexual innuendo, is a glaring example of how easy The Stones Foxes make their sound appear. What's more, it's a clear indication of how seriously these dudes take themselves: they don't.
"Beneath Mt. Sinai," the stomping, sing-a-long album opener proves what's on The Stone Foxes mind; it's only rock and roll. Many young bands eager to cut their teeth might avoid such an obvious cover as the harmonica and reverb-filled "Rollin' and Tumblin'" but why should that concern The Stone Foxes? Their debut LP is not begging for hipster cred; it's here to spit in their face and laugh all the way back to the party.
By Joshua Kloke
[Rating: 4/5]