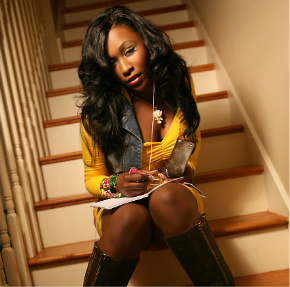 When Slip N Slide signs a new artist the industry takes notice. Ted Lucas & Co. have found a new songstress by the name of Shonie who they are gearing up to introduce to the world. Shonie has lived in Miami since 9 years old and it was there that her mother noticed her vocal abilities. By 16 she was offered a record deal with Slick Salt Ent which would lead to Slip N Slide and Def Jam getting involved as well. I got to hang with Shonie and we spoke about her "Birthday Sex" video, Michelle Obama, working with Trina, and so much more.
Stoli: How did you come to the attention of Slip N Slide Records?
Shonie: I came out with a mixtape and got a buzz in Miami. SNS got word about me and Ted was trying too do something different with R and B so they came to me with   deal.
Stoli: Is Shonie your real name and if not how did you get that alias?
Shonie: Yes, Shonie is my real name. I was named after my aunt.
Stoli: How long were you grinding & hustling your music before you got a deal offered?
Shonie: We started going hard when I was 16. I got a deal with South Beat first thats when I met my manager and his team. We've been going hard ever since.
Stoli: What do you bring to the urban music scene that you feel it is missing?
Shonie: I just want to bring great music. Whatever feels good in my soul and bring that real R and B music. People fall in love and I just want them to be able to turn on the radio and feel good about love and life. SNS is a movement right now so we're all bringing something different top the music scene.
Stoli: What mind set & environment must you be in to write & record music?
Shonie: There's a lot going on in the world today. that's why I love being around people and seeing new things when I write. I can write anywhere as long as I'm feeling the track and I know I can create a great song.
Stoli: Your video "Birthday Sex" is cool. How did you come up with the concept for the song & video?
Shonie: Birthday sex was an incredible record. shout out to my label mate Jeremiah. Everyone loves great sex on their birthday so i felt like I could remix it and make it sound like it's my own. I celebrated my 21st birthday in June so we decided to shoot the video to give a visual for the record.
[youtube Zz17H73n9JI nolink]
Stoli: As a female in hip hop, does it bother that you are judged on sexuality rather than musical ability?
Shonie: I think it's a shame women have to be subjected to that type of treatment in this day and age. I try not to sell sex because I know I have a talent. don't get me wrong I am sexy but thats not what I'm trying to sell to my fans.
Stoli: You are on the same label as Trina. Is there competition there or do you two get along fine?
Shonie: Trina is a rapper and I sing so we come together to make great records. She welcomed me into her world like a little sister. She teaches me a lot about how to handle myself as a young lady in the indusrty so there'a a lot of love. Check out our new song it's called "Ain't Shhh" It's CRAZY!!!!
Stoli: You take advantage of the Internet via Twitter, Youtube, Myspace, etc. How much has these resources helped you to spread your music to reach new fans?
Shonie: I'm on all the social networks. it's important for your fans to feel like they can relate to you   so I try my best to keep up with the social networks.
Stoli: In the US today unemployment is rampant. What advice or wisdom can you give to those going through that struggle and how has this recession effected you if at all?
Shonie: Keep your head up!!!! It'll get better!!!
Stoli: You represent women and their struggle. What does Michelle Obama mean to you and what have you learned by seeing her in the public eye?
Shonie: Michelle Obama is a very strong woman, She is for the people. I feel like that's what we need as black women, a woman who cares and is trying to do there best to make the world better. It will take time but it will happen. She's means a lot to all of us.
Stoli: Besides money & fame what would you like to accomplish through your talent in music?
Shonie: I want my music to talk to people in so many ways. Everyone will respect me in the game for how hard I work. I want to make my way to the top by being real and allowing my fans to really get to know me.
Stoli: What can we expect from Shonie and where can Skope readers get more from you?
Shonie: You'll see what I'm coming with really soon!!! My fans can check me out on all of my social networks as well as www.DEFJAM.com and www.SlipNSlideworld.com.