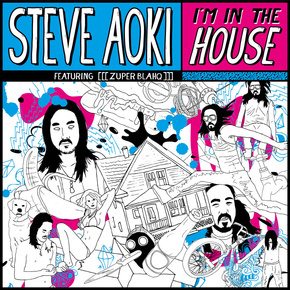 On September 15, Steve Aoki will release his own single, "I'm in The House," featuring the mysterious man in the mask, [[zuper blahq]]].
The track is a fun, jumpy track that shouts out artists and friends of Dim Mak: Crookers, Boys Noize, MSTRKRFT, The Bloody Beetroots, LMFAO, and Pase Rock.
"I'm In The House" Video:
Steve Aoki, the visionary behind Dim Mak Records, knows how to spot talent. His label has brought a mind-blowing array of party-starting music to the masses, from Bloc Party to The Gossip, Klaxons, MSTRKRFT and The Bloody Beetroots.