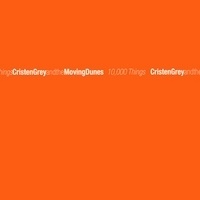 Cristen Grey once was the lead guitarist & rhythm guitarist for the heavy metal act, All Eyes.   She and her heavy-hittin' band opened for some pretty big 80's rock acts such as: Quiet Riot and Cinderella.   That was then and these 10,000 Things are the now.   10,000 Things came from "Grey's realization, as per Tao philosophy that we're all in this world but not of it; on a planet where the three begat 10,000 things and all of them, including people, are interconnected.   Moving Dunes comes from the weird sounds in the desert actually made by sand dunes.   From the group name alone, you get a deep sense of being coming from the mind-set of Cristen Grey.  
 Singer/Songwriter, Cristen Grey, hails from the dry lands of Santa Fe, New Mexico.   However, there is nothing dry or dull about the music Grey and the Moving Dunes have created here.   The sounds coming through my speakers had a little bit of this and a little bit of that.   Everything from adult contemporary rock to country and blues to metal-induced power ballads to acoustic folky pop pureness can be heard.   It makes sense that Grey is "trying to connect with everyone" because that is exactly what she did here by intermingling all of these musical styles.   The new record touches on real life issues that involve: love, fear, joy, sorrow and the power to bounce back when you've hit rock bottom.   The sounds are versatile mixed with everyday themes.   The entire public can relate with this album on many aspects and 10,000 Things can be narrowed down to one word: REAL.
Grey is responsible for all the music & lyrics on this new CD playing to the tunes of: vocals, lead & rhythm guitars, acoustic guitars, slide guitar, piano, dulcimer, mandolin, synth keyboard, harmonica, tambourine, shakers, bird sample and truck sample.   I am completely floored by all the instruments Grey plays here–quite impressive.   Grey also helped produce, engineer and mix this record along with Brian Widger who also contributes: lead & rhythm guitar, slide guitar, vocals, synth guitar, piano and drum programming.   The guitar playing is very distinct and pleasing to hear actually.  
By way of Grey's musical ability, style of playing and voice adds an element of enriching substance.   The record starts with a title called "So Much Better" that has a nice, easy-going flow sang with such high emotion.   "I Want The World" offers up an edgy rock contemporary sound with a rebel-rockin' & heavy guitar riff.   "Bad Emotion" is one of my favorite songs due to its straight up nasty rock groove along with its in-your-face-raw-energy feel.   "Stir Up A Swarm" includes a pleasant harmony with a melody that seems to paint a perfect picture.   The album ends on a country-influenced tone while still hangin' on to that edge and Grey is workin' the harmonica in a big way.
Overall, Cristen Grey and the Moving Dunes have created something here that can be consumed by the masses.   The rich diversity evident on this album is nothing short of immense with 10,000 Things to talk about.   For more on Cristen Grey and the Moving Dunes and their latest release, 10,000 Things, SKOPE out www.cristengrey.com.  
By Jimmy Rae
[Rating: 3/5]