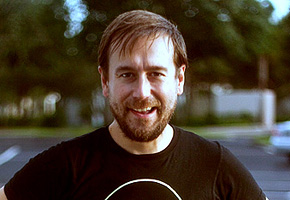 Over the weekend, Skope was able to interview Fred Mascherino of The Color Fred and ex-guitarist of Taking Back Sunday about his life after Taking Back Sunday, his kids, and touring.
Currently Mascherino is on tour with power-pop band The Scene Aesthetic, along with The Ready Set and Steven Jerzak, playing small venues like Swampgrass Willy's in West Palm Beach, where we did the interview together. While his tour van may be a 12-passenger job, he's touring by himself and with a friend, exchanging a full band for full intimacy.
And full intimacy is exactly what Fred delivered on his roughly half hour acoustic set, performing singles like "If I Surrender", and even taking requests around the last few songs of the set. The stage was very empty, lacking the other members of The Color Fred who usually accompany Mascherino, as he decided to do the entire tour acoustically. But he let South Florida know that the next time he rolls into the town, he'll "be back with a full band", bringing the rock with him!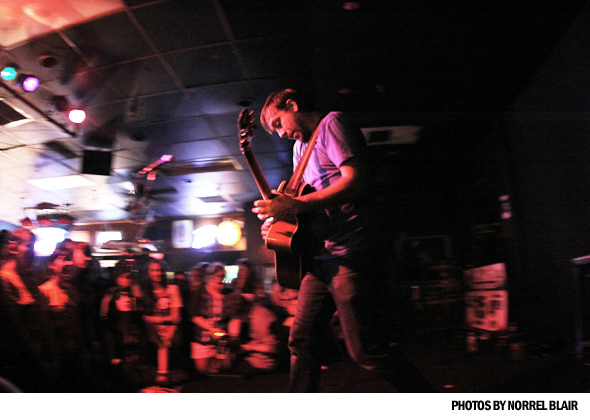 – – –
How has the tour been treating you so far?
It's been amazing, this is the first time I've toured on my own… acousticly, usually I ride with a band, and when I toured with Craig Owens I went in his vehicle with him. I'm out here with my good friend Pat, it's just the two of us, and it's really amazing and it's really stress-free.
How is touring as Color Fred different from touring with Taking Back Sunday?
Oh, it's a lot different! For one thing, the shows are a lot smaller, and I've enjoyed the personal part of this particular tour. I'm playing acoustic, I talk to the crowd a lot more and get them involved, which is something you can't do when there's 4,000 people there. But, the day-to-day things are less complicated because I don't have a dozen crew people.
Do you try not to tour so constantly so you can spend more time with your kids?
It's definitely hard being away from the kids, but when I'm home I usually get to hang out with them the whole time and we'll ride skateboards together, go down to this pond near my house and mess around with the turtles. But the first year and a half Bend To Break came out, I stayed on tour most of the year with Angels & Airwaves, Chiodos, and I did Warped Tour…so I haven't really slowed down much.
On tour, do you ever get homesick or want to go and see your kids?
After about a month, it gets tough, but I'm used to it about this point, but I've been touring for more than 10 years, and it used to be rough touring, because I was virtually unknown when I started, but lately I've been able to do it on my own terms, and it's been more comfortable.
Would you ever go back to Taking Back Sunday if the chance appeared?
Right now, I wouldn't see any reason to do it, they've just did their new record and I feel pretty good about what I'm doing, and I don't feel any regrets. But I'm not the kind of guy to say "never", but if it was a different time and everyone was in a different mood, it's possible.
Do you and the band still communicate often?
No actually, I tried to keep it going for a while and they weren't that receptive. And they basically stopped returning my calls.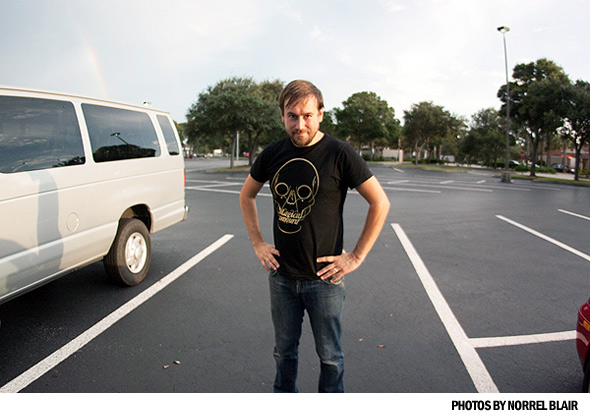 You did a cover of "Human Nature" by Michael Jackson. Have you been playing it more than ever?
I've only played it once since he died, because it was always really tongue-in-cheek and I thought it was more of a fun song to do and now it seems a little bit morbid or solemn, but I did get a request for it the other night and it was actually fun and I'm sure Michael would be happy if we were all loving his music.
On your video for "If I Surrender", did the dog really piss on the floor?
Haha, it was actually olive oil I think, so no, but it was funny because the director kind of knew how to make it look like that, we had to hold the dog and then get it out of the way, the dog would run away, and the spot would be there.
Was it confusing to shoot the video, as far as issues with continuity?
That was all the director. I came up with the concept of the video as the "Groundhog Day", don't know if you've ever seen it but it's based on that. It's a classic. So I wanted it to be like that and the writer, Andrew, helped me out.
What do you have planned for the future?
Right now I am working on a new full-length album, and probably the next tour I do I will be back with a full band instead of just me.
– – –
The current tour Mascherino is on is currently wrapping up with only a few dates left, ending in Orland Park, Illnois.