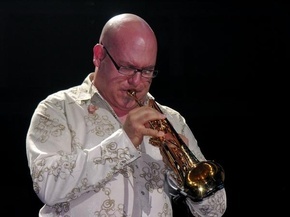 My next guest is one of the top trumpeters in the music business today. Bill Ortiz has worked with such diverse and dynamic artists as Santana, Destiny's Child, Tito Puente and Tony Toni Tone. Bill has been with Santana since 1999. Recently he decided that it was time to go solo for a bit. So he hit the studio and recorded 'From Where I Stand.' This thirteen track album is Bill's way of making his own artistic statement and he does that very well. Join us as we talk about working with Santana, the music biz today, Jazz's place in the mainstream, and so much more!
Stoli: When did you decide you wanted to go solo for a bit and put out 'From Where I Stand?'
Bill Ortiz: I've had it in my mind for a long time to pursue a solo career. It's always been important to me to make my own personal artistic statement as an improviser, composer and producer.
Stoli: What is the most exciting aspect of putting your own album out as opposed to a Santana album?
Bill Ortiz: That's a good question. When you are playing as a side man, the musical challenge is to take your individual voice and use it to help the bandleader fulfill his or her musical vision. That is an art in itself- it's very important to respect their vision and at the same time to adapt your own voice without abandoning it. When it's your own thing, you get to define what the musical statement is and fully explore your own vision.
Stoli: How do you see the music industry today from where you stand?
Bill Ortiz: Man, that's a double edged sword.   It's great how the whole internet phenomenon has leveled the playing field between the indie artist/label and the huge corporate label conglomerates. With iTunes, Amazon, CDBaby, and other online places to buy music,   it creates the ability for any artist to have great distribution. Fortunately I'm also working with a great distribution company called IDC- Independent Distribution Collective, owned by Steffen Franz.   In addition,   Myspace, Twitter, Facebook, Reverbnation and all the other social network sites create a way for artists to promote their music and generate a buzz about it. The down side of all this is that it's tough to maintain the idea that people should pay for music. It's easy to rip MP3s from your friends and it seems to be a trend in our society to value celebrity and not art itself. But that's another can of worms.
Stoli: At what age did you pick up the trumpet and realize this was your calling?
Bill Ortiz: I started playing trumpet when I was 10 years old. I was an avid music listener even before I started playing.   My family all played a lot of music, plus I played the radio 24/7. I also had a few Louis Armstrong records that my folks had bought. I remember when I got my first trumpet-before I could take it to school and get my first instruction, I laid on my bed, pointed my horn up to the ceiling and tried to figure out "St. Louis Blues." Let's just say I didn't get too far that day! I started playing gigs at age 16, but didn't decide that music was my going to be my career until my last year of high school.
Bill Ortiz "Slip Into This" MP3:
Stoli: How can music teachers in the US public schools make music more appealing than getting in trouble in the streets?
Bill Ortiz: My wife is a public school music teacher and addresses that issue every year. What she tries to do is to present music that is not only the standard school repertoire but also music that young people are going to relate to and have fun singing or playing. If you give students a worthwhile alternative to hanging with people who are trouble, they are more apt to engage in school music programs.   It's also important for teachers themselves to listen to and treat the students as young adults- not get into personal power issues, and at the same time have the students respect the teacher student relationship.
Stoli: You have worked with legends and have accomplished so much. What keeps you hungry and constantly working?
Bill Ortiz: I got the music bug a long time ago and still wake up everyday with a thirst for creating musical moments and playing all the pretty notes. It's who I am more that what I do for a living.
Stoli: If you were not a legendary trumpet player, what do you think you would be?
Bill Ortiz: Well, I'm not too sure about the legendary part, but I am a trumpet player! I was interested in psychology and physics before I decided on music. Since I'm not 6′ 9′, then I guess being a power forward in the NBA wasn't very likely.
Stoli: I love the track "In Every Breath." What were you trying to convey to the listener with that track?
Bill Ortiz: Thank you! The song "In Every Breath" is a tribute to the legendary Donny Hathaway. Even though the song isn't totally derivative of his writing, I tried to capture the feeling of his music, or at least the feeling that I get from his music.
Stoli: Does it bother you that jazz does not get the mainstream coverage of hip hop or alternative music?
Bill Ortiz: To me it's a larger issue-I touched on it earlier. In mainstream society today, we often tend to honor the cult of celebrity of "artists" and not their art. Miles Davis once said that he got more attention from the mainstream media and the general public with one Honda TV commercial and being in one episode of "Miami Vice"than he did with 40 plus years as a musician. This is coming from one of our most important figures in 20th century creative music.  
Times and culture change- while jazz will always be one of our true art forms in this country, art itself tends to grow and develop. Some of the today's most creative "jazz" artists also explore incorporating other styles with it to create new and fresh music. Dizzy Gillespie and Charlie Parker did this with latin music. Ray Charles and others did this with rhythm and blues.   Musicians now often use world music and electronic music to do the same. Carlos Santana once said that if hears a trumpet player and he hears "trumpet" then they've lost him. He stated that he wants to hear "life"in their playing- something that will make him believe it. In the same manner, I think of myself as not being only a jazz musician, but a musician. Jazz is a very big part of my vocabulary but it isn't all that I am as an artist. I'm as inspired by Mos Def, Curtis Mayfield, Bjork, Gil Scott-Heron and Erykah Badu as much as I am by Herbie Hancock, John Coltrane, Lee Morgan or Pharoah Sanders. I don't see any point in putting myself in a box. This is just my own concept and not any statement on other artists. If an artist dedicates themselves to preserving the idiom of jazz as it was played in the '40's, '50's or '60's or whenever, that is just as valid of course. We all have our own musical path- based on our musical upbringing and life history.
Stoli: How do you stay motivated and what helps inpsire creativity for you?
Bill Ortiz: I'm always looking for music that inspires me and knocks me out- either new or new to my ears. I love musical surprises, although there are many artists and music that will always do that no matter how many times I hear it. Sometimes it's something besides music.
Stoli: What have you learned and experienced from working with Santana that had a profound effect on you?
Bill Ortiz: I really connect with how he approaches the role of a band leader. He's always looking for ways to keep the music fresh and the musicians reaching deep down for it. Nobody wants to see a band where the musicians are phoning it in. When you see Buddy Guy play, you see somebody who brings it hard EVERY day, EVERY gig   and EVERY solo. Thats how they approach music and that's what resonates with me.
Stoli: What do you like to do on your off time and does family play a role in your life?
Bill Ortiz: I like balance. I'm a better musician if I'm a complete person, not just a trumpet player or the guy working behind the computer every second. My wife is a a musical artist as well- I try to be as supportive for her as she is for me. It's also very important to me to unplug from it all and wipe the blackboard. I was a person long before I played the trumpet. As much as trying to be a better musician, it's even more important to me to strive to be a better human being.
Stoli: You put your album out on Tangent Records. What is your role at Tangent and are you looking to sign new artists?
Bill Ortiz: Tangent Records is a label owned by myself and my wife, Karney. She has 2 wonderful CDs out already on Tangent- you can check out her music on iTunes and on myspace.com/karneymusic. I'm looking to put out some other music- I have some stuff in the can with a group called "Ati Iroko" which I co-led with the great trombonist Marty Wehner. We have some live recordings with the Cuban pianist Omar Sosa. I would love to put some of that music out on Tangent. I have a couple of special projects in the works as well-stay tuned!
Stoli: Please let readers know where they can get more Bill Ortiz and what is coming up over the next few months?
Bill Ortiz: People can get more info from www.myspace.com/billortizmusic, my Facebook pages, www.Twitter.com/billortizmusic and my website, www.billortiz.com. They can also e-mail me directly at bill@billortiz.com. I'm having my CD release party at Yoshi's in Oakland, CA on September 28th. I will be performing as much as I can with my band in the future, as well as touring with the Santana band. We are playing at the Hard Rock Cafe in Las Vegas in September and November, with another year of touring around the world in 2010. I also want to take time to thank you Jimmy for this interview, as well as all the fans of my music.   I look forward to seeing them at the shows and hearing from them on line!
From Where I Stand – CD Baby:
From Where I Stand – I Tunes: