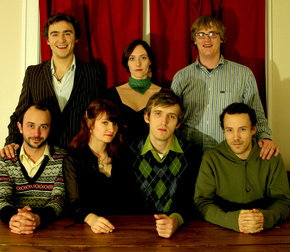 The eight-piece, kaleidoscope-folk troupe Ah Holly Fam'ly formed in the culturally sparse and desperate landscapes of rural Idaho, before packing up for their current home of Portland, Oregon.
The paired voices of married duo Becky Dawson and Jeremy Faulkner thematically tow a line between a deconstruction of the sentimental, and a celebration of it. Reservoir flirts with the memories of youth, where man-made bodies of water built for agriculture and industry became places of recreation.
'Reservoir' release date is October 13, 2009.
"All Unfolding" MP3:
"Young Veins" MP3:
Photo by: Amelia Hanas