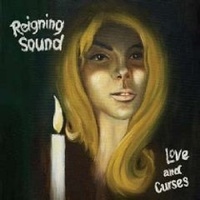 You know what you're getting into with the Reigning Sound: a rollicking good time. Led by Greg Cartwright,   the garage virtuosos chug through the 14 tracks on Love and Curses with remarkable ease, leaving listeners with a sense of loss and abandonment; how could something so exuberant be over so quickly? To be fair, only two of those 14 tracks clock in over three minutes, including the delicate "Something To Hold Onto." The winding, light-hearted number could have been transported back to 60's AM radio rather easily were it not for slick production. Don't be fooled however; the production   only serves Love and Curses   in a benign manner.
While Love and Curses doesn't pack the fuzzy wallop of 2004's Too Much Guitar, it isn't the fuzz and the noise which so many garage fans survive on that sets Love and Curses apart. For a genre that is so concerned with keeping their aesthetics authentic and true to the masters before them, Cartwright has managed to craft an admirably thorough and fresh batch of songs. "Debris" features Cartwright's raspy, howling vocals over a shimmying, hurried chorus. But upon further listens, you can't help but imagine Cartwright's desperately lovesick lyrics being sung by Usher, or someone falling in line with his sentiment.
It's not as if the record isn't totally of barnburners. "Stick Up For Me," sings the plea of a man seemingly on heaven's doorstep, with surfed-out guitars digging for the depths of hell. Cartwright displays a magic touch, best exemplified by his range. As stated in the liner notes, it's been four years since the last Reigning Sound studio record. One can't help but wonder if this is the sound of Cartwright and his ever-changing backing band maturing, or if he's simply found some happy medium. Whatever the case may be, Love and Curses manages to stay true to Reigning Sound's own aesthetic: have a good time and leave 'em wanting more.
By Joshua Kloke
[Rating: 5/5]