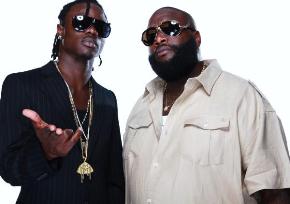 Maybach Music Group founder and rap star Rick Ross has touched down in Kingston, Jamaica to launch his artist Magazeen to the dancehall community.
Jamaican-born Magazeen is the only dancehall act signed to the Miami-based label, Maybach Music Group (MMG), which has a joint venture through Def Jam – a syngery Magazeen is looking to capitalize on with his fusion of dancehall, hip-hop, R&B and pop sounds and thus international appeal.
His versatile musical style can be sampled on Ross' single "Yatch Club," on his current album, Deeper Than Rap. "I'm coming like a loaded clip with my music," discloses Magazeen, on his launch in Jamaica – the motherland of reggae and dancehall music.
While in Jamaica, Magazeen and Ross will be shooting not one but three videos, as they aim to capture the reality of Jamaica on screen, as lyrically depicted in their songs. The videos are for new singles "Psalms 27," "Seven Eleven" and "Real Jamaicans." Both Ross and Magazeen will also perform on Saturday, August 22 at dancehall king Beenie Man's annual birthday bash, Summer Sizzle.
"I'm here to show Jamaica new Maybach Music star Magazeen and what he can do," states Ross. "And we're going to take advantage of being here to get the real Jamaican flavor for our videos to show the world."
"I'm happy to be coming home to Jamaica," reveals Magazeen, who currently resides in Miami. "I love my people and it's great to be back to experience the vibes as I'm working on taking our music to the international level and to all corners of the globe."