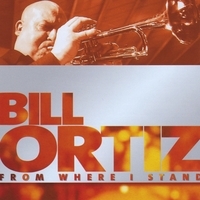 Metallica has their Master of Puppets and I would say Bill Ortiz is master of trumpets.   This artist has been a staple of the San Francisco Bay Area music scene for the past 25 years.   During this time span, Ortiz has also had the pleasure of working with some big hitters in the music biz such as: Destiny's Child, Beyonce Knowles, Taj Mahal, Tito Puente, Tony Toni Tone, Patty Austin, Michelle Branch, Chick Corea, Herbie Hancock, Lauren Hill, Quincy Jones, John McLaughlin, Todd Rundgren, Arturo Sandoval and Boz Scaggs just to name a few.   Did I also mention that Bill Ortiz has been a member of Carlos Santana's touring band since 2000?   That's right, Carlos freakin' Santana who has mastered the art of guitar playing for quite some time now.   This is what Mr. Santana had to say about his band-mate Bill Ortiz, "Bill articulates the beautiful language of jazz without losing the purity and innocence of a child.   It's a wonderful experience to share music every night with him."  
The new record, From Where I Stand, is a wonderful album due to its eclectic tastes of musical styles.   Ortiz blends in jazz, funk, soul, R&B and even reggae & hip-hop were dabbled with.   It's fitting that Ortiz himself called this new record a "diverse musical journey" because I couldn't agree more.   Music is in this man's blood as he picked up the trumpet at 10 years old and never looked back.   He said it best when he stated, "Music is not only what I do, music is who I am."   This musician has not only been blowing air into a brass instrument for decades now, he has also been blowing peoples' minds all along.
This new album is no different from what you expect from Bill Ortiz, which is just great music.   The record starts up with a title called "Ayejaye", which has a soulfully jazzy feel with elements of funk thrown in for good measure.   During this song, I hear a tantalizing vibe to go along nicely with stellar trumpet playing.   The next installment, "Little Sister, Little Brother" offers a romantic-type atmosphere with some sheer sexiness & sensual melodies hitting you hard.   "Ease My Mind" has some smooth R&B while "Highest Wish" has an incredibly relaxing, easygoing kind of sound.   I would say "Easy like a Sunday morning!"   On "Judgement Day" and "Judgment Dub (Ras Dru Remix)", you get some cool, reggae sounds that are just full of life.   On "Slip Into This", I hear an extremely nice flavor while "Slip Into It (Yay Area Remix)" offers up a hip-hop mix with some rapping.   All the while, the song is stressing peace in the world and to just "relax your mind."   The album ends with "I Still Believe….. (With Excerpt of Rev. Martin Luther King's Nobel Peace Prize Speech in Oslo)", which leaves the listener with highly encouraging & inspirational words of wisdom.  
Overall, I really enjoyed this record because of its crisp sound and wonderful musicianship.   The one thing that really stood out to me here was the wide range of music Ortiz was experimenting with.   So many styles & genres are flowing together to make up ONE terrific piece of music.   For more on Bill Ortiz and his new release, From Where I Stand, SKOPE out www.billortiz.com.   As far as where I stand after hearing the entire recording, I would have to say job well done to Bill Ortiz and all of musicians that made this project rock solid.  
Bill Ortiz and Carlos Santana will be playing at the Hard Rock Hotel and Casino in Las Vegas from August 24-September 13.  
By Jimmy Rae
[Rating: 4.5/5]