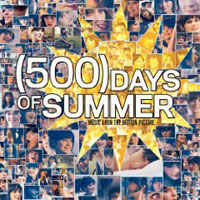 The movie "500 Days of Summer" starring Zooey Deschanel and Joesph Gordon-Levitt is an offbeat comedy about a girl who doesn't believe in love and the unfortunate and hopeless romantic that falls for her.
Of course its makes sense to cast Deschanel in the role of Summer – she's had a successful foray as a musician in the folk band She & Him — a cheerful collaboration with the musician M. Ward.   Her connection to the indie scene is deep with her recent marriage to Death Cab for Cutie's Ben Gibbard. Her affinity for films about music goes back years to her role as the rebellious daughter in Almost Famous. Her quirky charm and eccentric hipster image lends itself well to her character.
The main characters bond over music in the film (specifically over The Smiths), music plays a central role in the plot – the soundtrack is a collection of indie favorites for heartsick hipsters. The Smiths are featured twice on the album, a third if you count Zooey's She & Him cover of "Please, Please, Please Let Me Get What I Want" — that is fitting as Morrissey's bittersweet vocals are the embodiment of lovelorn rumination.
There are a couple of tracks from The Smiths, easily the quintessential band of the lovelorn teenager. This is like "Garden State" soundtrack #2 — but where that was a soundtrack for self discovery, vestige throwing awakening, and uplifting personal connection, the 500 days soundtrack mirrors the hopelessly and destined to fail, story of unrequited and non-reciprocated love. There are peaks of happiness in songs like Hall and Oates "You Make My Dreams" which by far occupies the most jubilant moment of our love lost protagonist.
There is the absolutely lovely "Us" by Regina Spektor. Her beatific vocals float over staccato piano and yawning strings. The playful "Bad Kids" offers a lighthearted jolt of swaggering blues-rock that only the mischievous Black Lips can deliver. The dreamy "Sweet Disposition" by The Temper Trap is a triumphant declaration with sweet vocals and caressing instrumentation.
The soundtrack is an apt collection of love songs that serve nicely as an audio scrapbook of love's journey. This is something that you will want to return to often and invokes warm feelings of when love was so sweet and when yearning hurt so good.
By Shaun Flagg
[Rating:3.5/5]
[audio:http://skopemag.com/audio/08 Sweet Disposition.mp3]