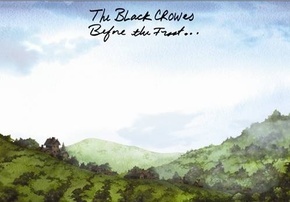 THE BLACK CROWES will release their new studio CD, Before the Frost… on September 1, 2009.  
A second album, titled …Until The Freeze, will be given away for free exclusively through a unique download code which is included in Before The Frost… as a "thank you" to their fans for two decades of continued support.
Before the Frost…, and its corresponding free album …Until The Freeze, were recorded over a series of five nights at Levon Helm Studios in Woodstock, NY.   Although both are studio albums, all the new material was performed and recorded in front of an intimate audience of the band's fans, making them a part of The Black Crowes musical history.   The innovative technique of inviting fans into the studio to become part of the process during recording is a rare experience.
FREE MP3 download 'I Ain't Hiding':